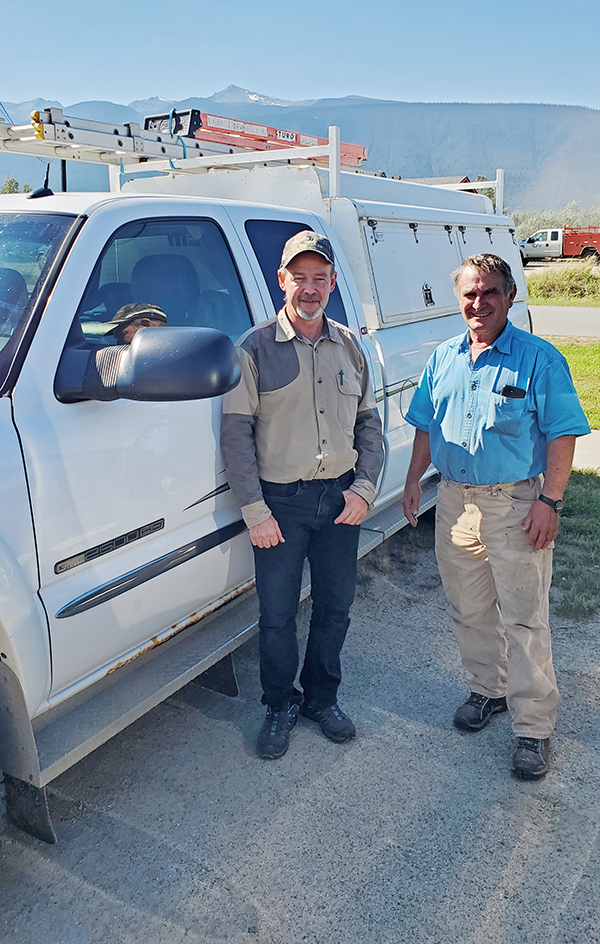 By Andrea Arnold
About 18 years after taking over from Glen Salt, Dunster resident Ken McNaughton is retiring from the furnace repair and installation business and handing it over to newcomer Terrance McNally's Robson Valley Ventures. McNaughton originally got into the business so that he could supplement the farm in the midst of a mad cow disease outbreak, and learned on-the-go. The furnace business quickly became his main source of income. Last fall, McNaughton let people know he was retiring and considered letting his Wood Energy Technology Transfer inspection certification expire. But he didn't close up shop completely.
"I couldn't just walk away and leave people without service," he said.
Around the same time, McNally and his wife Tammy arrived in the Valley. The McNally's had lived off the grid about 100km from their nearest neighbour, "close" to Mackenzie.
"We expected it would take some time to sell our house," said McNally. "We were shocked that it only took two days. We were suddenly looking for a house."
The McNally's didn't know where they would be moving, and they started looking around the province.
"When we arrived in McBride, saw the valley and met the people, it was a no-brainer," said McNally.
McNally loves to keep himself busy with hunting, fishing and trapping, and the Robson Valley presents opportunities to do all of these things.
As the couple went though the steps to purchase their home, the inspector mentioned the hot water tank needed replacing. McNally, holding a sheet metal worker ticket for HVAC, assured the man that he could handle it. The inspector suggested that McNally contact McNaughton as rumour had it, McNaughton was ready to step down.
The timing wasn't quite right, and McNally continued to work away from home, grading roads and often working night shifts before making the drive from PG to McBride on the weekends.
"Every time I made the trip back and I drove into the valley, surrounded by the mountains, I thought to myself, what am I doing?" said McNally. "This isn't the way to meet people, build relationships and make this a home."
This spring, McNally contacted McNaughton. They started discussing logistics and how the switchover could take place. McNally continued to work away from home as he considered his options.
He had worked in the industry for about 15 years in Grande Prairie where he built up a lot of experience working with natural gas heating systems. During the time the McNally's were in the Mackenzie area, he continued to do a few furnace-related jobs, but he took a job grading roads, ran a trap line and they rented out cabins to hunters, all off-grid.
McNaughton was thrilled when he heard McNally wanted to step back into the business.
"I couldn't be happier," said McNaughton. "I am so glad Terrance found me. He comes with a lot of experience. Experience is huge. I started out in the industry knowing nothing."
During the last week of August, McNaughton and McNally have been working together as McNally is learning what he can from McNaughton. McNaughton has shared experiences, trade knowledge, history and contacts. He has also sold McNally many of his trade tools and spare parts. However, the handoff fell short of the old ambulance McNaughton used as a service truck. McNally is fitting out a pick-up to use instead. The week of transition wrapped up on Friday Sept. 2nd. They agree they have worked well together and McNaughton says he is at peace walking away from the job leaving it in McNally's hands.
"That's it," McNaughton said. "I'm done."
"That's what he thinks," said McNally. "I'll be calling him for help."
McNally is offering installation, repair and maintenance service on a variety of air movement systems. Along with service for furnaces, ventilation, air conditioning, heat pumps, wood and pellet stoves in residential and commercial buildings, he is also offering service for kitchen exhaust ventilation systems. Like McNaughton, he is also qualified in geothermal systems.
The transition is also the starting point for the return of WETT inspection services to the Valley. McNally plans to complete the required certification as soon as it becomes available, possibly the end of September.
As the official handover of the responsibilities wrapped up, McNaughton looks forward to retirement, although his expectations of getting drinks delivered to him on the couch have been quashed.
"I've really enjoyed the people," said McNaughton. "I'm glad I could be of help for most. I am going to miss the socializing part of it."
McNaughton will be forwarding all business to McNally going forward. McNally has already had an influx of phone inquiries and is grateful to McNaughton for setting him up for success.
"I'm looking forward to the new adventure and meeting the people in the Valley," said McNally. "I hope to be of some assistance to residents."