By Laura Keil
---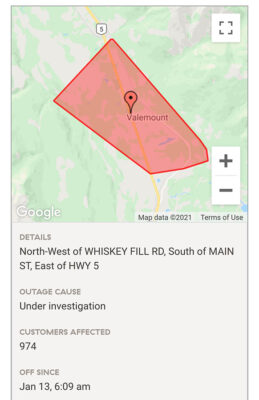 A downed tree on a powerline on Whiskey Fill Rd. was responsible for the 8-hour power outage that cut the lights for about 1000 Valemount customers Wed. Jan. 13th.
The power was out for a period during the night and restored around 5:30a.m., but went out again around 6am. It took crews eight hours to troubleshoot the problem.
To add complexity, heavy snowfall overnight led to travel advisories spanning from Blue River to the Alberta border.
Travel advisories were lifted around 9am, only for an accident near Mt. Robson to close Hwy 16 for several hours, with no detour.
A BC Hydro press release said strong winds had left about 100,000 customers without power across the province, the hardest hit areas being Abbotsford, Victoria and Vernon.
"As the storm is moving its way across the province, its causing extensive damage to BC Hydro's electrical system due to branches and trees breaking contacting its equipment," the release said. "More outages are expected as a result of the wind."
BC Hydro said it was also receiving reports of downed power lines. A downed power line is considered an emergency situation and members of the public should stay at least 10 metres back and call 911 immediately.