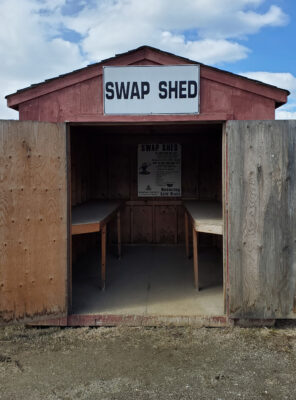 By Andrea Arnold
Beginning this Saturday April 16, 2022 Robson Valley residents will once again have the option of leaving still-usable items at transfer station swap sheds for other people to pick up for free. Locations in McBride, and Valemount, along with Mackenzie and Shelley will unlock the doors for the first time since they were closed in 2020 due to COVID-19 restrictions.
"We are pleased to have the swap sheds in operation again," said Rachael Ryder, Waste Diversion Program Leader with the Regional District of Fraser Fort George through a media release issued on April 11, 2022. "Swap sheds give new life to usable items that can find a new home. One person's junk is another's treasure so the swap shed is a great alternative to just throwing something away."
Items that can be dropped off at a swap shed need to be in clean, usable condition. Clothing, books, toys, sporting goods and furniture are all accepted.
Although the spaces will be cleaned on a regular basis, the sheds are small so the RDFFG asks that people follow health and safety protocols, limiting the number of people inside to one or two.