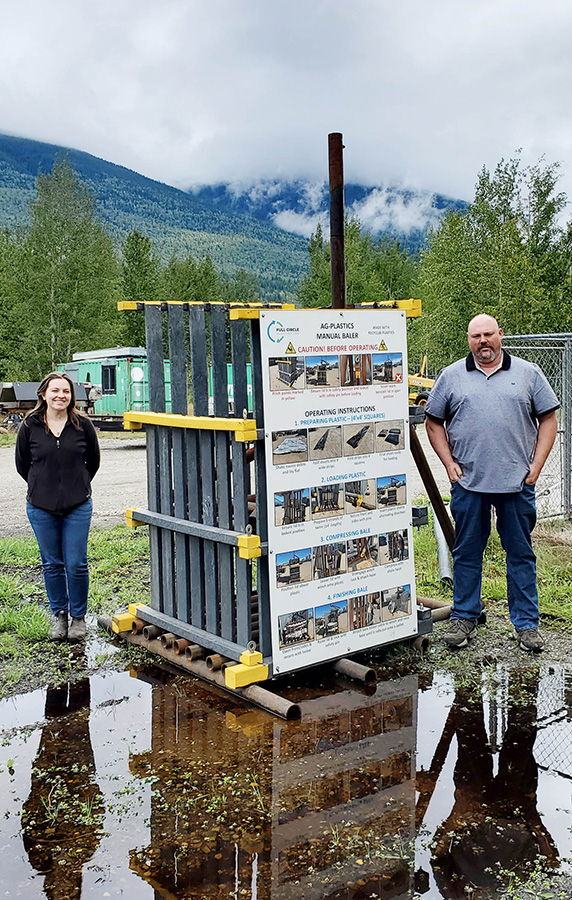 By Andrea Arnold
Plastic bale wrap, silage bags/bunker covers and baler twine used by farmers in the Robson Valley now have a place for disposal. Cleanfarms, has partnered with The Regional District of Fraser Fort George on a new recycling pilot project that includes a drop-off site within the McBride Transfer Station.
"It's a great way to start something like this in BC," said Rachael Ryder, Waste Diversion Program Leader with RDFFG.
"The Cleanfarms recycling project in the RDFFG is one of three recycling programs taking place in British Columbia," said a press release from Cleanfarms. "The others are in the Regional District of Bulkley-Nechako and the Peace River District. Each pilot is slightly different depending on the most prominent types of local farming, Cleanfarms' overall goal is to expand pilots into permanent programs across the country to achieve zero ag plastic waste to landfill."
In the past, local farmers have used whatever means necessary to dispose of these items.
David Hruby has seen this problem from two different angles. As a farmer himself, he has struggled with what to do with the constant build up of twine that comes from the bales he feeds his cows.
"I have piles of it," he said. "It gets strewn everywhere."
Farmers with a backlog of large plastic products have, in previous years, burned, buried, shoved the products into bins at the transfer station, or even dumped them in the river.
In his role as fire chief, Hruby has dealt with fire complaints from neighbours who are experiencing the smoke and smell from piles of melting plastic.
The problem has led to ongoing discussion among the farmers and Hruby continued to present the issue to the Regional District.
"I asked them if there is something that can be done," he said. "If they could put together a program."
Ryder has worked with Clearfarms on other issues involving agricultural supply disposal, so she approached them with the request.
"This pilot program is something that has been needed for a long time," said Regional District Area H Director Dannielle Alan. "Dave, Mac and the other farmer need ways to dispose of plastic. They started the initiative, and it was my pleasure to support it at the board level."
Collection bags are available at the transfer station in McBride for each of the types of material. Cleanfarms' contractors will pick up the materials and transport them to recycling facilities in Canada and the USA where they will be processed for reuse as new products such as car parts and plastic bags, the company says. At this time, a recycling solution for net wraps is not available.
A baler has been delivered to the village to allow trained personnel a method for compacting and containing the large plastic bags to allow for easier transport.
"I'm happy to see it get going," said Hruby. "Hopefully everyone uses it."