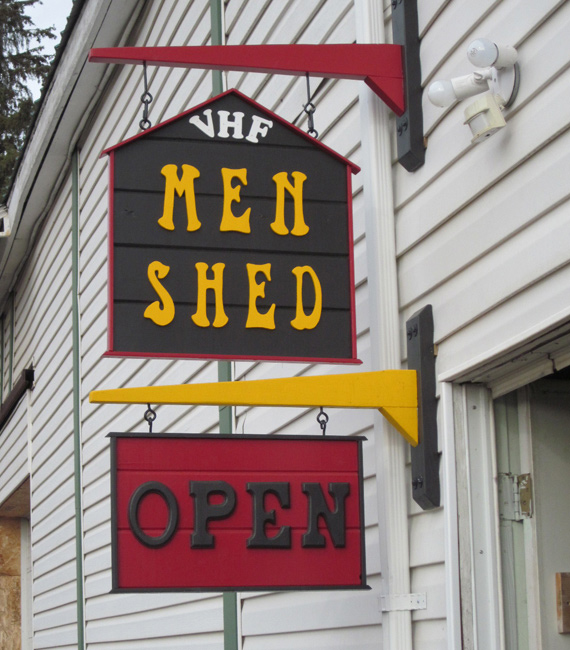 By Laura Keil
Thanks to a grant from CN Rail, Robson Valley Community Services has $2,500 in start-up funding for local Men's Sheds—one in McBride and one in Valemount—and now it's putting the word out to find men who have a space and/or ideas to get them started.
"We really want it to be male-led," said RVCS Executive Director Lina Thompson. "At the end of the day, I don't have a clue what guys need."
Men's Sheds have sprung up across the country as a tool to engage men in their community. According to Men's Sheds Canada, Sheds are "modern, shared versions of the home workshops that have long been part of the Canadian way of life."
Thompson said it's been an uphill battle to get funding for men's programs, despite the community saying for years that it's something that's needed.
"We were like, how long are we going to wait? How many more men are going to feel isolated and struggle with mental health challenges? Let's just do it."
RVCS has a small shed in McBride they can convert until they find something better. They don't have a location in Valemount yet, so they are putting it out to the community to see what's available.
Thompson says Men's Sheds go beyond the physical space, and features of other Sheds include doing outdoor activities like hikes and creating a tool-lending library. The physical space is where men can socialize, repair or build things, perhaps swap bike repair skills, or repair sporting equipment and give it back to local kids.
It would be a space open to self-identified men of all ages. Dedicated men's services has been part of the RVCS board of directors strategic planning for the last several years, Thompson says.
"The leadership team and the board feel very strongly about ensuring we have support programs for men," she says. "We will apply for every grant in support, and I'm guaranteeing that 100 per cent of proceeds will go back to that program."
RVCS has charitable status, so tax receipts are issued for any donations.
Thompson says there are some existing supports available to those in need. For instance Northern Health offers free mental health counselling to adults living in community—but there are often wait lists.
"We are very fortunate to have a dedicated team of doctors, nurses and counsellors, but from my understanding there are considerable wait lists. I strongly believe that intentional connection is one of the best prevention tools we can offer each other."
She said a contact at the United Way helped push the idea forward:
"If you're waiting for this bucket of gold to drop from the sky to make this happen, you're going to wait forever," she recalls him saying. "Just start where you are."
She said the same man spoke of "social prescribing," in other words, prescribing social contact as a way to improve health.
RVCS wants the participants of the Men's Shed to decide how they want to shape it, which means RVCS is taking a leap of faith, Thompson says.
"My board's like 'How are we going to do this' and I'm like 'We'll figure it out.'"
Doug Mackie founded the first Canadian shed in 2011 in Winnipeg. According to the Men's Sheds Canada website, Doug recognized that many men in his community had both time on their hands and a tendency to suffer from isolation, loneliness, and depression, especially after retirement, as many men tie their identities to their careers. "Since starting MenSheds Manitoba, Doug has helped men come together, stay productive, and contribute to the community—all of which are keys to good overall health."
"Men's sheds are not a service for men. But you might be of service to others or get advice and support from time to time," the website says.Anyone interested in getting a Men's Shed going in Valemount or McBride or has a space they're willing to lend, get in touch with Lina Thompson at at [email protected] or Jana at [email protected]