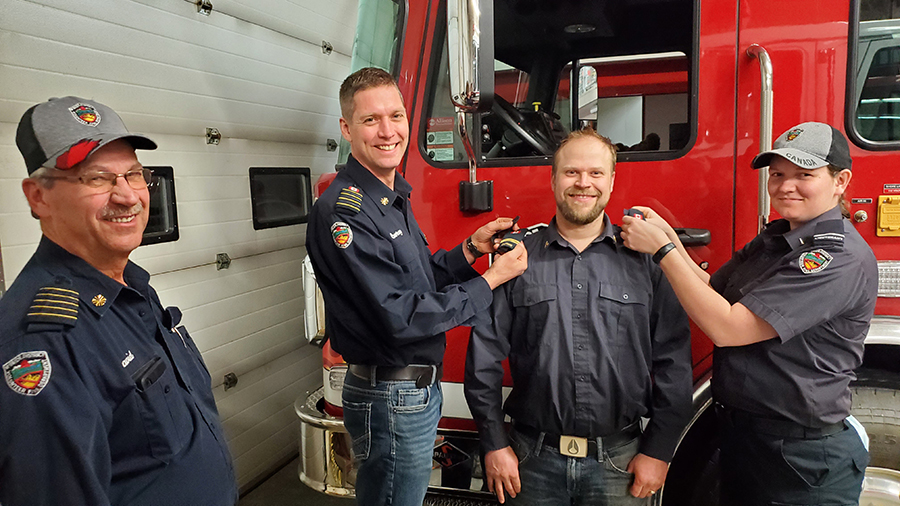 By Andrea Arnold
Anthony Hruby was appointed Captain for the McBride District Fire Department on Monday March 7, 2022, by a unanimous vote of senior department members. This rank places him third in command behind the Deputy Chief, Courtney Lipke and the Department Chief, Dave Hruby.
Hruby joined the department at 16 years old and completed seven years of service and training before moving out of the valley to pursue work in the oil patch. Two years ago, he moved back to McBride, and returned to the department to serve the community.
Now, with just shy of 10 years of experience under his belt, Hruby is honoured to take on the responsibility and title of Captain.
Captain Hruby is the second generation of Hruby to wear leadership stripes at the MDFD. Chief Hruby says he is very proud of the younger Hruby, both as a father and as Chief.
"It is so nice to have him return with the knowledge and competency he left with," said Chief Hruby. "I am confident in his abilities as I oversaw his training so far."
"I will be helping with training now," said Captain Hruby. "But I know there is a lot more to learn as I settle into the new role. I am pleased to be able to continue serving the community in a new capacity."