By Michael Peters, VES Station Manager
---
On Friday, April 30, 2021 the Valemount Entertainment Society (VES) launched Digital TV Channel 9 with five new programs, making a total of 16 TV stations, 15 in digital, available to the community.
Channel 9 will carry the Food Network, KCTS PBS Spokane, BBC World News, the CTV Sci-Fi Channel, and APTN (Aboriginal Peoples Television). "These stations were selected by the community in a 2017 poll." said VES Coordinator,
Michael Peters. "We'll have three of our four channels broadcasting over the air in digital, channels 9, 11, and 13, with five stations on each of them. We plan to apply for Columbia Basin Trust Community Initiatives grant funding in 2022 to complete this massive project by converting Channel 7 to digital and adding VCTV along with four new stations, giving Valemount a total of 20 high quality Digital TV stations."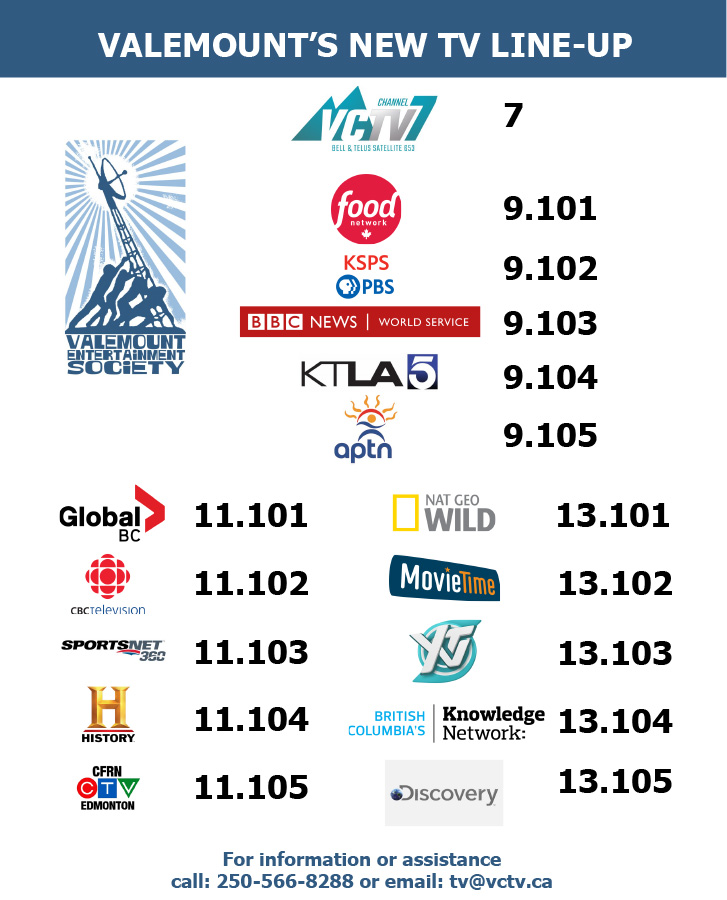 The conversion from analog to digital, mandated by the federal government, was made possible through a series of CBT CIAAP grants over the years, along with contributions from VES. "It has taken us several years to get this far," said VES President, Christine Torgerson, adding, "digital television equipment is expensive and the learning curve in working with it has been steep, but the payoff is in the outstanding picture quality. On behalf of myself and the current and past VES volunteer Boards, and our man on the ground, Michael Peters, I want to thank the community for their continued support and patience as we've phased in Digital TV. We hope they're pleased with the result."
Peters notes that the CTV Sci-Fi Channel launch will be slightly delayed as Bell Media, owner of CTV, is currently in contract negotiations with the signal provider and will not authorize any new launches until the contract is finalized. "In the meantime,", said Peters, "we'll be substituting one of the largest U.S. stations, KTLA from Los Angeles until the Sci-Fi Channel becomes available." KTLA was chosen because it is in the same time zone as Valemount, and because it is a CW network, offering a good selection of current and classic programming.
"Prior VES Boards, along with former VES Coordinator Andru McCracken, developed the initial plans to convert Valemount's TV broadcasting to digital," said Peters. "I'm grateful for their work and commitment on this large project over the years and honoured to be able to fulfill their vision with the support of our current VES Board. It's an awesome feeling to turn on the TV and see crystal-clear digital pictures!"