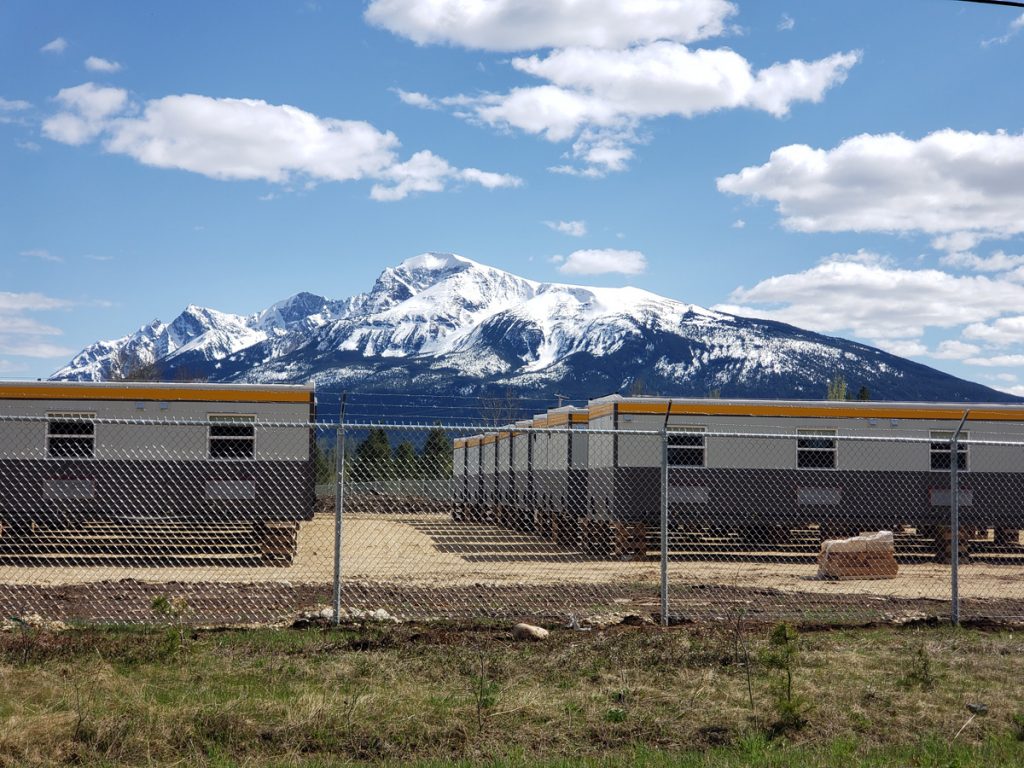 By Laura Keil
Some 60 kitchen, janitorial and hospitality workers at the 600-bed Valemount ATCO pipeline accommodation camp are now part of the Unite Here Local 40 union.
Union spokesperson Stephanie Fung said 39 of 45 (87 per cent) who voted were in favour of unionizing. The biggest concerns were low wages and travel pay.
"Some workers (housekeepers) are earning just above minimum wage," Fung told the Goat. "Many travel for hours by bus to get to camp, and the camp itself gives them very little compensation."
She says many workers travel by bus from their home communities to get to the Valemount camp and stay at camp (sleep overnight, eat there) away from their families for several weeks, before returning home for days off.
"While the company provides the shuttle bus, the travel time is 5-10 hours, and workers should be paid more for their time on the bus."
She also notes that workers at Valemount make up to $5/hour less than some of their unionized camps.
A person who used to work in housekeeping at the Valemount camp spoke to the Goat on condition of anonymity. The person said they were paid $17/hour and worked 10-hour days whereas camp housekeepers elsewhere received $23/hour.
"We were short-staffed so most days I wouldn't even take a lunch break," the person said. "I was expected to clean 52 rooms (per day) when we were short-staffed."
After cleaning all the rooms the person said they were then asked to mop the main hallway to all the other hallways, again due to being short-staffed.
"I left because I physically couldn't take it after seven months and we were having issues with our paychecks—shorted hours."
The person said they had no benefits and they suffered blisters and swelling from the strong cleaning chemicals, despite wearing gloves and a mask. In addition, when guests became sick, housekeeping wasn't told until the sick person moved to hallway Q, the COVID quarantine wing.
Stephanie Price used to work front desk at the camp. She said aside from the lower pay, her shift schedule was becoming a nightmare.
"I was working until 10 at night and they were starting to move the shifts around—I was 4 on, 4 off, and then they started talking about 7 on 7 off. And now I think they're 14 and 14. They just kept changing their mind. And if it wasn't Trans Mountain changing their mind, it was ATCO, and if it wasn't ATCO it was LEDCOR."
With so many contractors involved, she said it wasn't a streamlined operation.
"I've been an insurance agent 20 years, and I've never seen a business run like that before."
Unite Here 40 represents roughly 330 camp workers in B.C., such as Kitimat camp workers at Civeo and Horizon North, and LNG Canada janitors in Kitimat and camp workers at Parsnip Lodge. Fung says UNITE HERE Local 40 is reaching out to workers at the Clearwater camp as well.
The Valemount vote actually occurred in July 2021, but a legal challenge delayed the vote count until January.
The challenge, initiated by ATCO Frontec Ltd, pertained to whether the Valemount and Clearwater camps should be considered one bargaining unit (Clearwater has not yet moved to unionize) and it also contested the type of employees included in the union. For example, janitors are included but maintenance technicians are not and they sometimes cover the same duties.
On Jan. 14th, the B.C. Labour Relations Board dismissed the challenge and ordered that the ballots be counted.
"This 90 per cent vote for the union goes to show that we ATCO workers were really united and wanted a change in our lives," ATCO Valemount Camp general helper Levi Gerlib said in a press release. "I support myself and my brother, and it feels good knowing that I can bargain to raise my wages to help him and save money for the future."
Valemount workers are the first ATCO camp workers on the Trans Mountain pipeline project to unionize. The union said workers intend to begin negotiations soon for better wages and working conditions.