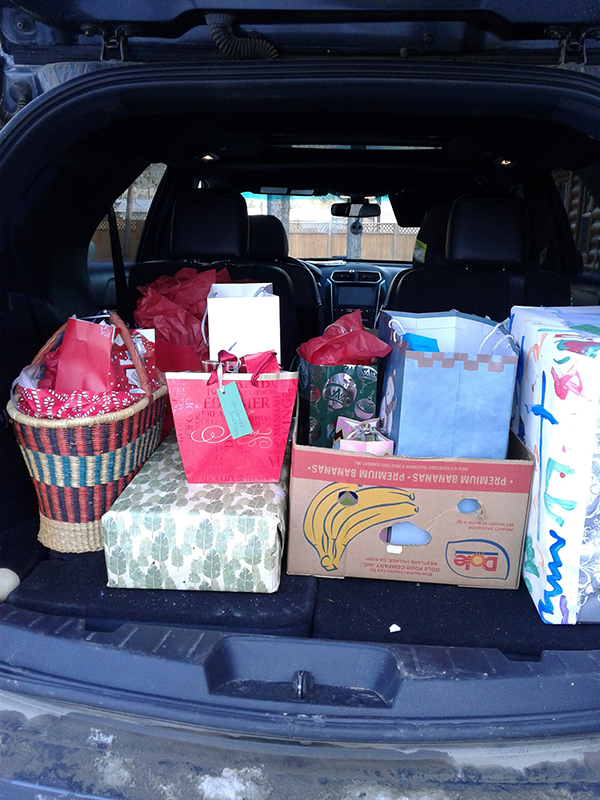 By Andrea Arnold
The second annual Adopt-a-Senior outreach for Christmas is underway in Valemount, and McBride and Dunster seniors will be part of the action this year too.
Valemount organizer Marian Plummer heard about the adopt-a-senior idea from her daughter who had participated in a similar drive in Fort McMurray.
"With all the COVID restrictions in place and little movement of people permitted, we thought it would be nice to have community members adopt-a-senior thereby bringing joy to both the parties," said Plummer.
The idea involves matching seniors who live alone with an anonymous gift-giver to help brighten their Christmas.
Last year more than 100 people were matched.
Participating seniors are asked to list three wishes (value totalling $100) and people wanting to "adopt" a senior contact Plummer. The senior's wishes are written, along with a number, on tags. No names are attached to any part of the process allowing total anonymity to both the seniors and those purchasing the gifts. The tags are then placed on a display board allowing the adopters to pick a tag and start shopping.
She said last year they initially had more adopters than seniors to be adopted.
Once purchased and wrapped, the gifts are held at a central location until the delivery date. Many families joined in last year to play the part of Santa's helpers, delivering not only the presents but also a smile and Christmas cheer.
Those doing the deliveries felt their own joy during the experience, and age was not a limiting factor.
Plummer said one of the mothers told them that her son said it was way nicer giving gifts to all the elders, then getting gifts for himself. "This is an outreach we will continue to do. Everyone receives in the end. There's joy in giving, joy in receiving and joy in being Santa's helpers."
Plummer is leading the group again this year. Last year, she was pleased to have several pipeline workers get involved as well, as they wanted to give back to the community, and hopes to see their involvement again.
So far, the Valemount group has paired up 65 adoptees/adopters. They anticipate a few more as the pipeliners arrived back last week. This year, they will also be gifting to some younger individuals who will be alone for the holidays.
Dunster/McBride
Dunster residents, Kat and Kim McNaughton were impressed by the creative form of outreach. They have consulted with Plummer and kicked off the Adopt-a-Senior program for the Dunster and McBride area. Kat posted the information on Facebook and within two hours 16 adopters had signed up. Now, a few weeks later, they have had almost 50 seniors nominated, and are close to completing the pairings. They want to include seniors living on their own and may not have close family in the valley.
"We hope to include younger residents of the valley when it is time to deliver the gifts to the seniors," said Kim. "Our hope is that this outreach becomes a blessing for both the giver and the receiver"
How to take part
If people want to help out, but cannot afford the $100, Plummer encourages pairs or groups to pool their funds to brighten the season for a senior. Alternatively, small donations of items to be used as fillers are also welcome. Anyone can purchase little gifts, like candy, chocolates, word search books or crossword puzzles and they will be added to deliveries where needed.
If people want to get involved, or want to know what is still needed, please contact
Marian Plummer 250-566-4807
Kim McNaughton 250-968-4467