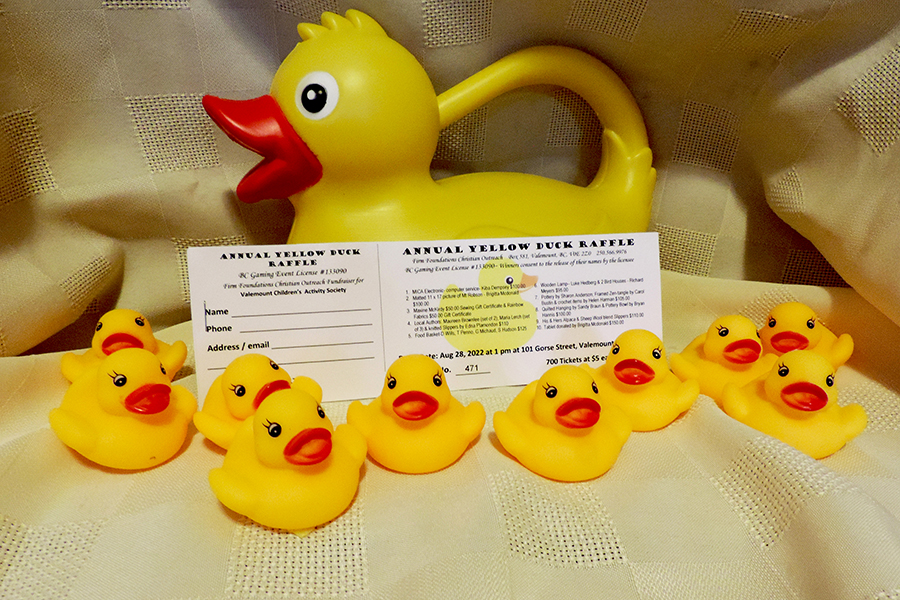 Submitted by Marian Plummer
This is the second year that Firm Foundation Christian Outreach is doing their Yellow Duck Pluck Raffle. This year all the proceeds from the ticket sales will be donated to the Valemount Children's Activity Society. There are 10 prizes to be won ranging from a gift certificate from Mica Electronics, a matted photo of Mount Robson, books from local authors, a food basket, bird houses, pies, pottery, a wall hanging, alpaca slippers and a tablet. Tickets cost $5 each.
The prizes have all been purchased from local crafters/home based businesses, with funds from our ongoing Recycling Program.
If you haven't purchased your ticket yet you can find them at the Valemount Children's Activity Centre, A Cut Above, Infinity, The Gathering Tree, The Library, Pines Golf and Abernathy's Restaurant. Local residents are also selling tickets are Ellen Duncan, Jane Shaw, Laura Johnson, Krista Voth, Lois McTaggart and Marian Plummer. Get your ticket today before they're all gone. The draw will take place August 28th and you do not have to be present to claim your prize.