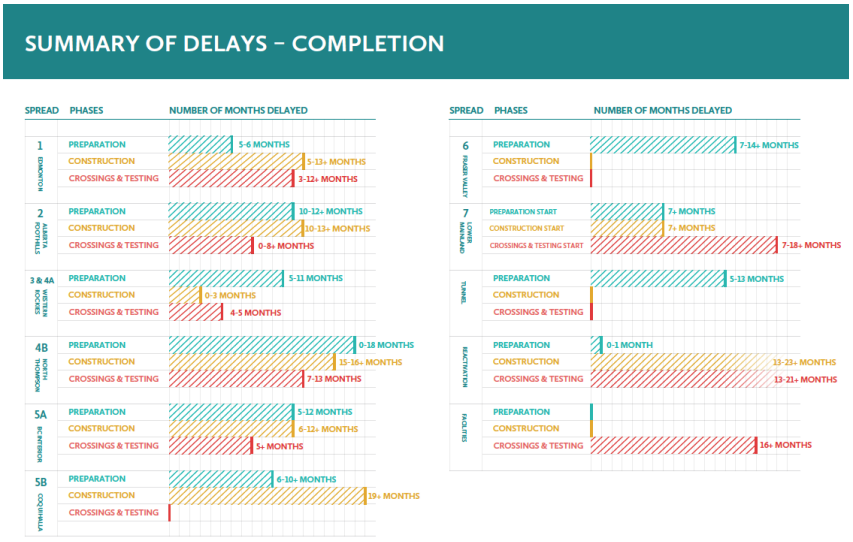 By Andru McCracken & Laura Keil
According to a new 28-page report by West Coast Environmental Law, the Trans Mountain Expansion Project is going to be delivered late and over budget.
Eugene Kung, a lawyer for West Coast Environmental Law helped assemble the report called: Trans Mountain: Delays into 2023 will add millions to public cost, which can be viewed here: tinyurl.com/TMX-delay
Kung based his estimates by diving into reports that Trans Mountain filed with the Canadian Energy Regulator, assembling a snapshot of the pipeline's progress, segment by segment. Kung and his associates believe the pipeline will be delayed up to 23 months.
When contacted, Trans Mountain was upbeat, and didn't acknowledge any delay.
"We are over 30 per cent complete project wide, and over 20 per cent complete in the North Thompson region (which includes Valemount)," said a spokesperson.
Trans Mountain said they anticipate "mechanical completion" of the project by the end of 2022, with commercial operations to begin "soon" after. However, Kung said the project had been scheduled to be in operation by year-end 2022, and that this new target actually acknowledges the delays.
"In May or June they stopped talking about the in-service date and switched to mechanical completion," said Kung. "It is easy to say you are on budget and on schedule when you keep changing the schedule and budget."
Major delays that Kung has accounted for include stopping clearing a right-of-way because of nesting birds and safety-related shutdowns after a serious incident in BC and a death in Alberta.
"These delays have a cascading effect as much of the work must be sequenced (ie. right of way clearing must happen before pipeline construction). Construction seasons are impacted by the weather, by fish, bird and animal migration and breeding times, and increasingly, by shutdowns related to forest fires," wrote Kung.
Local impact of delays
The delays for Spread 3 and 4 could mean an additional year and a half of activity in the stretch from Darfield to Rearguard, which spans several communities including Valemount and Blue River.
Even after mechanical completion is completed, the pipeline company will still have work to do in terms of rehabilitating the surface of the right-of-way to a natural state.
Valemount has experienced a zero vacancy rate for more than a year, with stores reducing their hours due to a lack of staff as a result of the housing shortage.
Trans Mountain told the Goat this week that 1400 workers were in the area, 300 more than they reported in July and double what was initially budgeted for Valemount.
For campground owners, hoteliers and landlords, the influx of pipeliners has meant a spike in business, but some locals have been relegated to "couch surfing" as their rental homes are sold and re-rented to pipeline workers.
Cost to public
West Coast Environment Law estimates that the delays will potentially cost hundreds of millions of dollars.
Trans Mountain said they have no update on the cost of the project. The last assessment in February 2020 said it would cost $12.6 billion, far more than the previous estimate of $7.4 billion.
Kung said his law firm aren't fans of the project, and while it has some public support, he wagers it doesn't have unlimited support for major delays and massive budget overruns.
Kung said the need for the shipping capacity of the pipeline should be reviewed since so much has changed since the project was initially vetted in 2013 and since the cost of the project has tripled.
"Even for people who are proponents of the project, I don't think anyone would say that this is worth building at any cost. At the end of the day it is still a business proposition," he said.
As for a new estimate of the total cost of the project from Trans Mountain, that isn't expected soon.
"At this time we have no update to provide on the cost of the Project—any update will be a result of a thorough and detailed process," said Trans Mountain.
Information hard to come by
Kung said they chose to write the report because their ability to get up to date information on the progress of the pipeline has been hampered since it was purchased by the federal government and became a Crown corporation.
"To be totally honest, the source material is extremely limited and controlled by what Trans Mountain files," he said. "They change the format so it's hard to compare apples to apples and it only runs six to 12 months in the future."
"The lack of transparency, reliable information should be concerning to the owners, all Canadians."