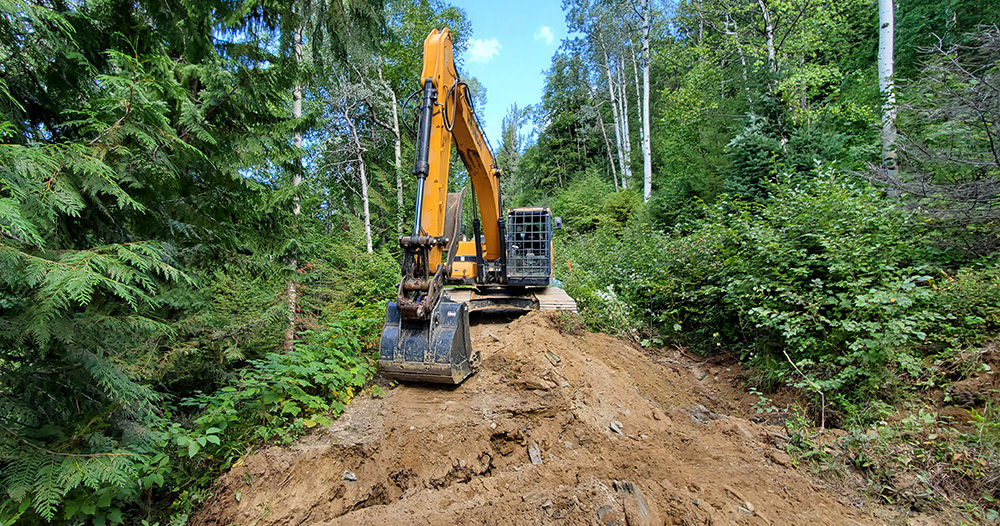 By Andrea Arnold
Locals and tourists alike will soon be able to access the half-way point lookout (and beyond) on McBride Peak without the need for specialized transportation.
The road has been closed to vehicles at the 6.5km mark where part of the road has been undercut and sluffed away, since early summer 2020.
"Overall we want to make the bottom portion of the road up to the 6.5km slump a more solid road," said Engineering Technologist Kim Reurink, TFT with the Ministry of Forests, Lands, Natural Resource Operations & Rural Development.
"Able to deal better with precipitation (winter melt and spring runoff) and local traffic and produce a better travel surface."
The crew from Civil North Consulting out of Prince George began transporting supplies to the work site on Saturday August 14, 2021.
Although the slump at 6.5km is the main issue, the scope of the project includes all of the first 7km of road beyond the small parking area at the bottom.
Reurink provided the list of repairs set to take place within those 7kms.
lifting and reinforcing road prism in sections
widening of the road in sections
resurfacing sections
grading, ditching
cleaning or installing culverts
fixing the slump at approximately 6.5km

The first step to the project was to check out the road and decide where culverts were needed. 20 were trucked up and set along the side of the road near each installation site. An excavator was unloaded at the base of the road and the operator has been smoothing, widening, ditching and installing culverts as the operator works his way up to 7km
Each culvert is 9 metres long. This allows for the water to drain further away from the side of the road. The one earmarked for the sluff repair is 12 metres long.
The contract end date is September 30, but everyone involved is hoping to have it done by the long weekend. This is weather and breakdown dependent as well as other uncontrollable challenges.
"Which is why we are encouraging the public to avoid going up there," said Reurink. "For safety reasons, and so the contract can get completed in the most timely manner possible."