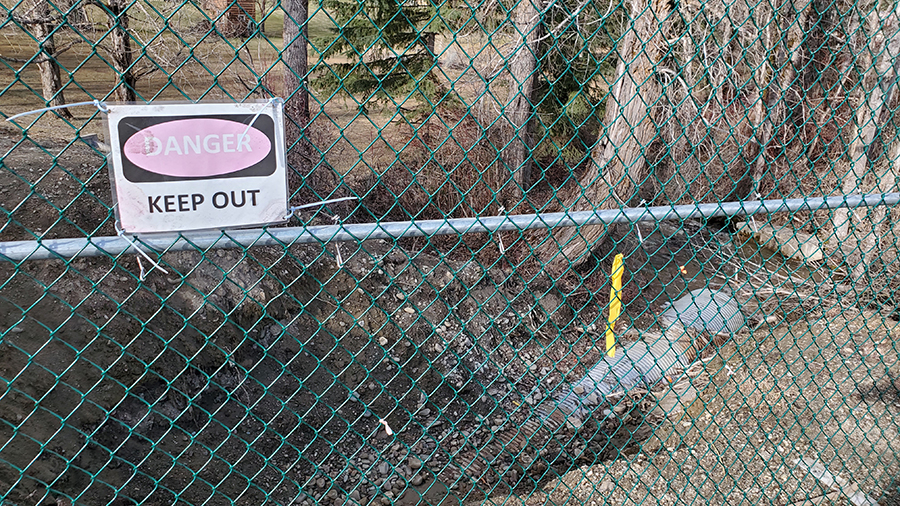 By Andrea Arnold
Direct street access to McBride Secondary School along 2nd ave is scheduled to reopen in December 2022.
The road has been closed to all but pedestrian traffic since flooding on July 1, 2020 caused a sinkhole to collapse part of the road. Initially the closure only affected one lane. Once flood waters receded, an engineering assessment was completed. The assessment showed that the stability of the road had weakened, so the whole road was blocked off from the north (town side). A detour was created to access residences and the High School.
"It was determined that the culvert would need to be replaced before the road could be repaired and recommissioned," said a news release from the Village of McBride on April 4, 2022.
The Village had planned to complete the work and reopen the road in 2021 and staff proceeded with the tender process.
The release said that as they proceeded through the steps required to begin construction the Village was faced with extenuating circumstances including supply chain issues and additional engineering so repairs had to be delayed to 2022.
Instead, the major project for the Village in 2021 was the completion of the Charlie Leake Airfield culvert replacement project in 2021 which saw a new culvert installed under Airport Rd. at Shelby Creek.
At this time, the tentative timeline for repair extends from the tender being awarded on June 1 to reopening by December 1.
"We'll have a better idea once the contract is awarded and commenced," said Village CAO Chris Tupy. "Typically there is a closure period for quality control purposes and to confirm the contractor met all the engineering specifications and the road is safe to use. It will realistically be a much smaller window from completion to opening, however, we have to plan additional time in case there are events out of our control that delay construction."
In conclusion, the release confirmed that reopening the route is a priority project for the Village this year, and that the village appreciates the continued patience from locals throughout the process.