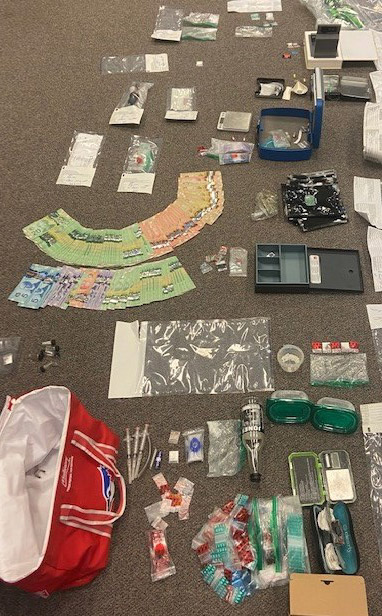 Submitted by Cst. Robert Riemer
Months of ongoing investigations, evidence collection, surveillance, and information gathering paid off in the early hours of July 17th when the Valemount RCMP executed a search warrant at a known drug house in the 1000-block of 14th Avenue in Valemount. A local male was arrested without incident inside the home and is facing numerous charges including, but not limited to, trafficking in a controlled substance, and possession of a controlled substance for the purpose of trafficking. A thorough search of the residence was conducted, resulting in substantial amounts of suspected methamphetamine, cocaine, "crack" cocaine, GHB, and heroin being located, as well as numerous items associated with dealing drugs including scales, plastic baggies, and needles.
The drugs are estimated at $7,000 in street value. Also seized was more than $6,800 in cash, proceeds of drug sales.
"Drugs are not just in the big cities," said Constable Robert Riemer. "We as a community can work to restrict drug sales and help prevent the social and family problems that go with it. I hope that these successes will inspire more people to come forward with information. This is only the beginning, police will continue to focus on drug related movements and sales to help ensure a safe and positive community for all."
If you have any information you wish to share with police, please contact your local Valemount RCMP Detachment at 250-566-4466, McBride RCMP Detachment at 250-569-2255, or Crime Stoppers at 1-800-222-8477.