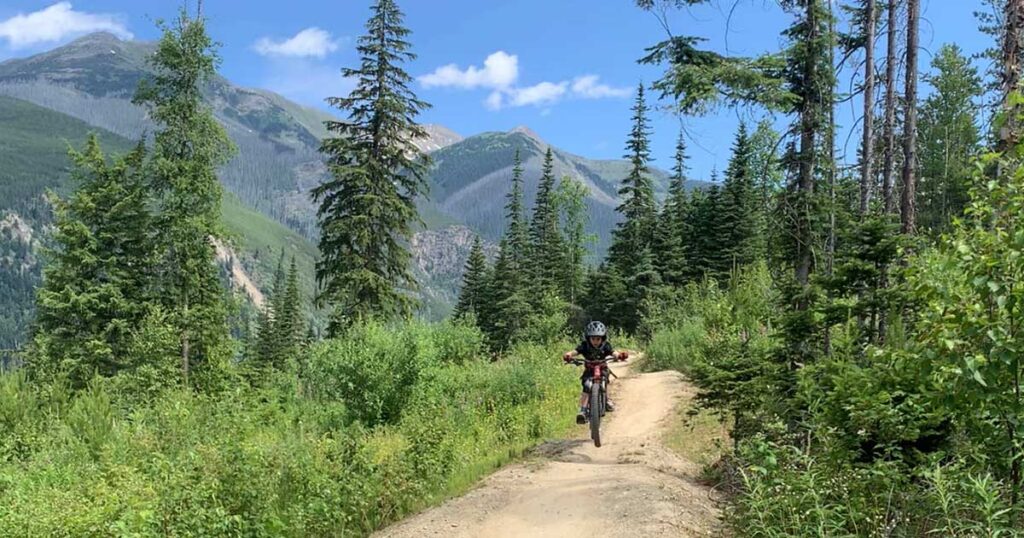 By Goat Staff
The Valemount Bike Park continues to grow in popularity, with a massive influx of riders last weekend despite the tail end of a searing record hot spell. It's not just the number of users that's growing, it's the number and styles of trails, the services offered and the economic spin-off.
Old is new
The Valemount Area Recreation and Development Association (VARDA) has been living up to its name, bringing new outdoor recreation opportunities to the community, but they also managed to stick handle through a setback to the entire recreation community. In spring, 5 Mile Road had a major washout preventing would-be recreationalists from accessing the area.
VARDA Manager Curtis Pawliuk said thanks to the hard work of the Valemount Community Forest and the Northern Development Initiative Trust, the slump has been repaired, and they added some culverts and widened the road in places. The road sees year round use by alpine hikers, skiers and bikers.
New on the scene
The upstart VALE Coffee has now opened a food truck at the staging area offering specialty treats and hot and cold drinks to hungry cyclists.
Getting swift
A new network of cross country trails on Swift Mountain is about 80% finished, according to Pawliuk. The network features pedal-centric biking and stunning new views.
Pawliuk said they still need to build an outhouse and get more signing at the staging area. When it is finished sometime this summer, VARDA is planning a grand opening. It's being ridden and Pawliuk reports the area is getting great reviews.
Dinosaur flow
A new beginner flow trail is just about ready to open. According to the builder Pat Podolski of Golden Dirt Trails, the finishing touch will come from the sky: rain is needed to help the new trail settle. Podolski designed the green trail for beginner mountain bikers who struggle with steeper trails. Local elementary school kids took part in a contest to come up with the name: Tyrannosaurus Rock. Pawliuk said this is the first 'true' downhill green trail on the network, featuring flowing turns, a controlled descent and no jumps and features.
"It's a flowy roller coaster through the forest," said Pawliuk.
Pawliuk said that from a trail management perspective it will help take pressure off other trails in the area.
All Black
Andreas Thoni is working on a new black trail from the Bacon Parking lot down to the staging area, it's not quite finished, but it will be a technical trail for advanced riders who love to ride trails like Coaster and Stinger.

Have road, will shuttle
Bike riders from two provinces will be pleased to hear that Peak Shuttles will fire up the Vanborghini in one or two weeks. Owner Aaron Ermantrout said that the washout of the shuttle road and a suite of other issues kept him from operating earlier. He plans on operating Friday through Sunday and long weekends.
Appreciation
A rider from Revelstoke raved about Valemount in a social media group dedicated to biking:
"Biked your bike park this past weekend. I live in Revelstoke and you guys have the best trails and bike community in the province. Thanks a lot," posted Ross Goddard.
In a follow up exchange Goddard said that a number of factors make Valemount his favourite place to ride.
"Basically, Valemount has a great vibe, good people, awesome trails, a brewery, woodfire pizza, coffee roaster, and a lake. All the essentials for an awesome bike trip destination. What else do you need?"