By Laura Keil & Andrea Arnold
With the closure of most local swap sheds during the pandemic (Dunster's being the exception) and restrictions on travel, many people have turned to local used-good shops to donate items and pick up new ones. These operations give a second life to used products and help divert them from the landfill. They also provide an affordable alternative and prevent the pollution caused by generating new items. We caught up with all our local sources of used goods to share how they are serving the community.
5&10 Thrift Store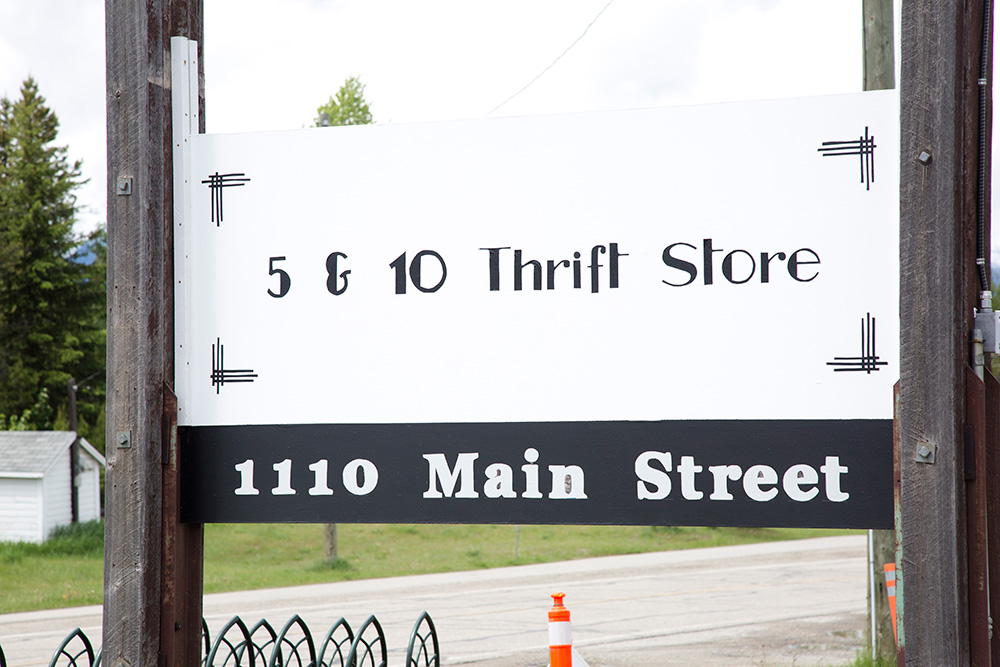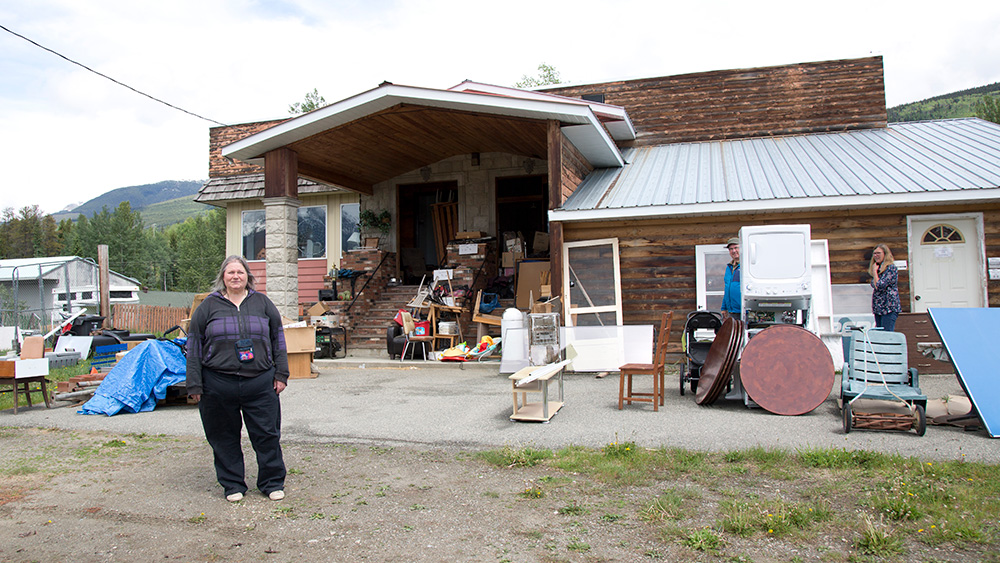 Valemount's largest thrift store is located on Main Street and owned and operated by Janet Moje, who opened her doors last fall.
She was inspired to start the operation to help divert items from the landfill and keep the earth clean.
"If something is usable it shouldn't go to the dump," she said. She notes that the clothing industry is especially bad, and buying used clothes can greatly reduce carbon emissions.
"We live in a beautiful area," she said with regards to her passion for the environment. "The best way to see more done is to do something."
Moje said she was targeted by hateful online comments after she misunderstood a local curbside swap day last fall and picked up some items for her shop, and says it was an honest mistake. They no longer do pick-ups because of that, but people are welcome to drop off used goods during business hours (weekends 10-6). Large donations must be pre-approved. She is looking to take more building supplies that are excess or the result of renovations. She also sells items on consignment and welcomes anyone who has something to consign.
The shop has a little bit of everything—clothing, furniture, building supplies, office supplies, landscaping bricks, straw, old windows, all manner of households items, and odds and ends. She even has a "Free Table."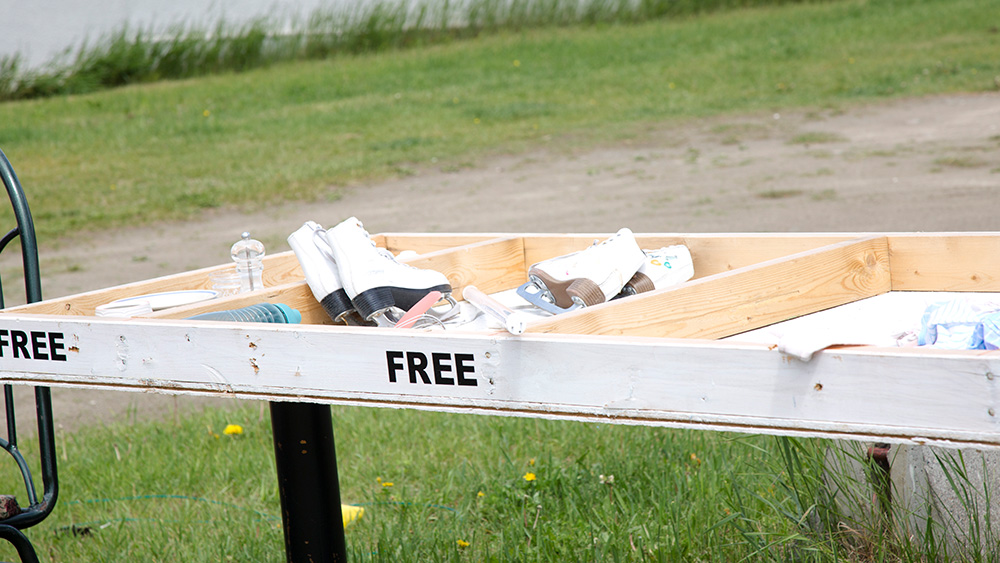 They also accept bottle/cans, batteries (all kinds), and cell phones/computers for recycling.
Moje posts many items on her website 5n10thrift.com and on her facebook page facebook.com/5n10thrift
To inquire re: donations, text or call her at 250-566-3352.
McBride Anglican-United Church's Thrift Store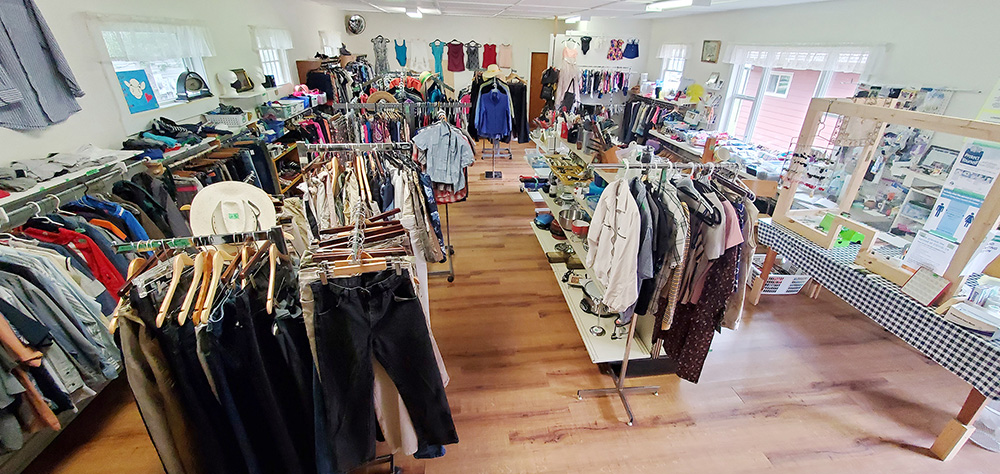 The Anglican United Church Downtown Thrift Store, located on Dominion Street next to the church (459 Dominion Street, McBride) operates on Tuesdays and Fridays from 1-3pm.
The Thrift Store accepts donations at any time through their drop box out front, next to the sidewalk. They stock shoes, clothing, bedding, toys, books, games, puzzles, sewing/crafting supplies, jewellry, small appliances and kitchenware.
The volunteers wash and sort all clothing before putting it on the rack. At times, certain items come in that are either overstocked, or not practical for the clientele. These items get donated to shops in Prince George.
The store closes a few times a year to allow the volunteer staff to fully clean and switch over the inventory in preparation for the coming season. Items that have not been moved are donated to thrift stores in Prince George. The next such closure will occur August 16-22. For the two weeks prior to the closing, they will be holding ½ price days on most items. Items with limited inventory will not be included in the sale. The shop is run by volunteers, and proceeds go to cover operating costs. Thelma Molendyk can be contacted at 250-569-0082 if there are questions regarding their services.
Adventist Community Services – Dorcas Donation Centre (McBride)
The Dorcas is a donation centre operated by members of the Seventh Day Adventists in McBride. It is located on Lamming Pit Road, across the parking lot from their church building.
Hours of operation are Tuesday's 1-3pm. However, if there is an immediate need, volunteer Teri Spangler will meet with and grant access to people outside of regular hours. She can be contacted at 250-569-2479.
The large bin on the step outside the door can be used for leaving donations at any time. Due to the size of the facility, the group is limited to accepting items such as clothing, shoes, small household items, games, puzzles, toys and bedding. They are unable to accommodate large pieces of furniture.
As all of their wares are donated, the Dorcas does not require payment of goods. There is a small box just inside the door where a donation can be placed when possible.
The Great Room's "Mini Shops" at New Life Centre (Valemount)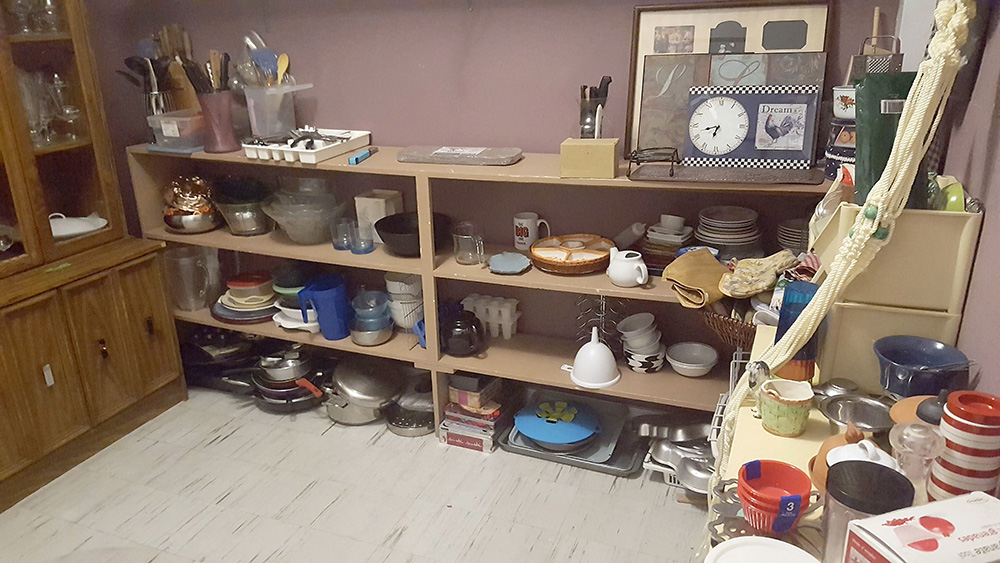 The Great Room's Mini Shops in the basement of the New Life Centre on 1st Ave is operated as part of the church's outreach program. Church member Lianne Abbott says the items are sold by donation; by allowing people to pay what they can, they hope to provide a valuable service to people who may be low on cash. The mini shops is run in conjunction with a by-donation lunch program and the Great Room also offers a space for people to sit and socialize (with COVID-19 protocols in place)
On the day we visited, a person leaving thanked the organizers profusely for what they were doing and how much it meant to them.
Abbott says need looks different for everyone.
"Sometimes it's prayer, sometimes it's food or clothes," she said.
Abbott says everyone is welcome to come, and they don't need to be church-going or even religious.
Donations can be made during operating hours Tuesdays and Fridays 11-1. They accept many items including small furniture, electronics, clothing, books and kid items. They don't accept beds and couches. Donations must be vetted and cannot be simply left outside the building. To inquire re: donations, drop by when they are open or send them a message on their facebook page "Great Room at New Life Centre" which is here: tinyurl.com/great-mini-shops
Valemount Anglican-United Church's (ongoing) Yard Sale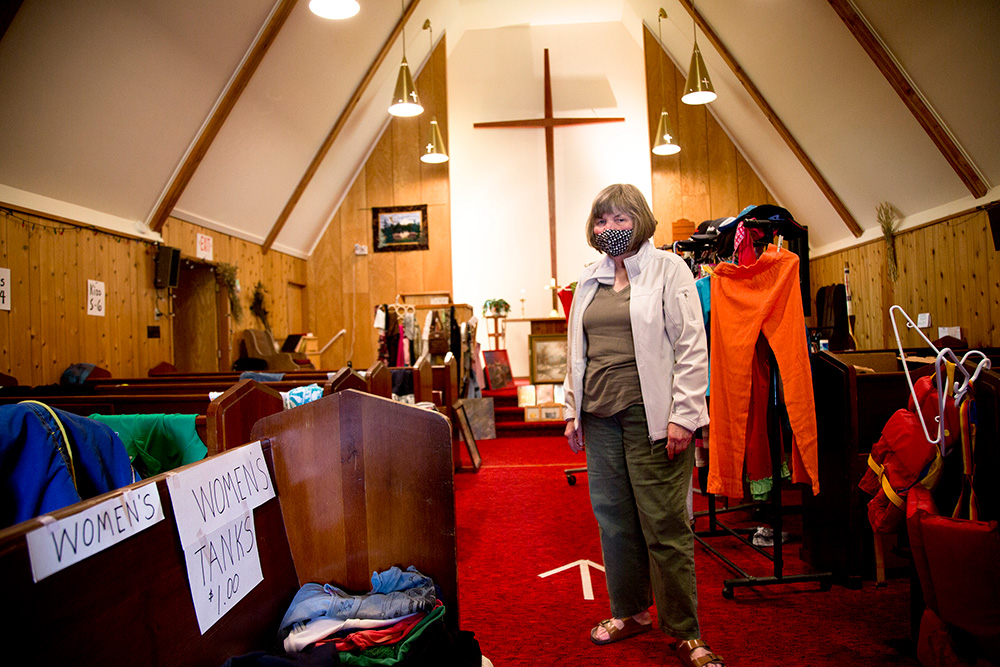 The Valemount Anglican-United Church's Yard Sale wasn't intended to be a permanent thing when it began last fall.
But with in-person services banned for most of the year, church members decided to keep it going two days a week.
The revenue from the shop will help them replace the wooden support pillars on the church building which are in need of repair, something church member Dee McEachern hopes will happen this summer. She says it's taken a team to manage the yard sale—they clean everything that comes in dirty, price every item (anywhere from 10 cents to $2 in most cases), and have everything organized into sections like dinnerware, clothing, baby supplies, kids' stuff, books, purses, shoes, games and small appliances. They accept donations of clean items in good working order during business hours (Tuesday and Saturday 10am-1pm located at the corner of 7th Ave mand Cedar) but clothing and large furniture must be pre-approved.
McEachern says credit must go to Shirley Taylor, Gwen Pich, Jane Shaw, Dawne Watson, Sandy Braun and Betty Hanus for their hard work and dedication. Other members of the church have volunteered as well. She says they've received furniture from hotels that are renovating and they are very grateful for those donations, which they've managed to sell quickly online. They have also partnered with other local service organizations like RVCS to ensure items get to people in need.
McEachern says with COVID-19 restrictions lifting soon, the church will be making a decision this week about whether or not to return to in-person services and shutting down (or reducing) the yard sale.