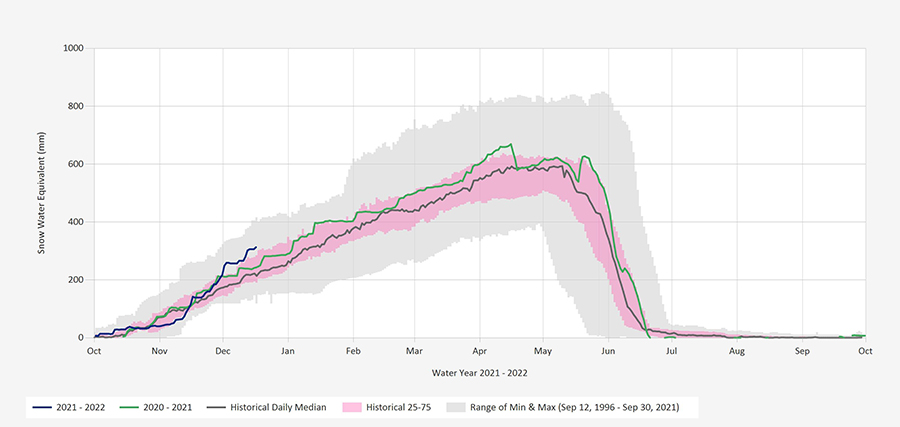 In wake of November slide, rec users warned to be avalanche-ready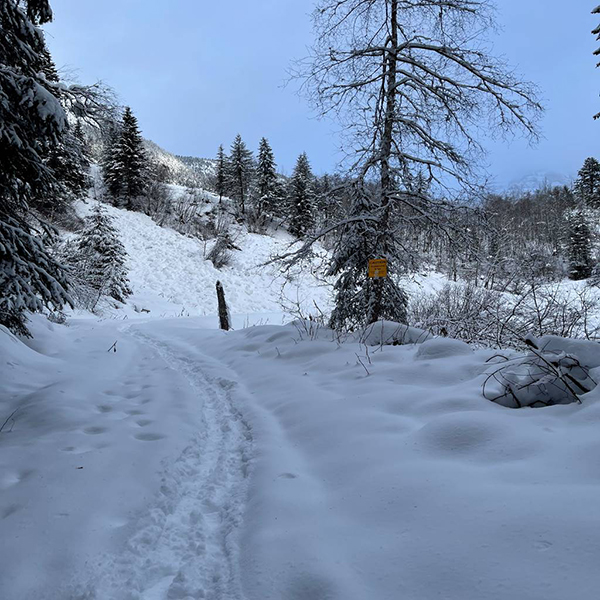 By Laura Keil
A "significant" slide in an unusual location has Mt. Robson Park supervisor Elliott Ingles warning rec users to be avalanche ready as they venture forth on the newly-reopened Berg Lake Trail this winter.
Ingles says a very large slide at the end of November came down across the Kinney Lake trail in a spot that hasn't slid in many years.
"That is a significant slide," he said. "In my five years of working in Mount Robson, that first slide hasn't come down,"
When he spoke to a former ranger, he learned that spot slides maybe once every 10 years. But he says it's unusual to have a slide this big this early.
"Everywhere can be unstable, and there was a crusty weak layer, but it's significant. It's big."
The region received an unusual amount of snow this year, due to Pineapple Express weather systems, and the current snowpack is above normal for the time of year (see graph).
Ingles says they've erected new signage to warn people they are entering avalanche terrain and travel at their own risk. He suggests they check both the Avalanche Canada website and the Jasper Park Avalanche bulletin to learn about regional conditions.
"Robson specifically doesn't have its own avalanche report, but the North Rockies (Avalanche Canada) and the Jasper (Parks Canada) one are a great kind of combo, and people should be checking avalanche conditions before they go out."
He said even travelling over top an old slide can be dangerous, as holes and cracks can appear.
"You have to be very cautious."
He says they've erected new signage warning people they are travelling at their own risk and there's avalanche risk.
Ingles strongly recommends people bring avalanche gear and know how to use it.
"Basically, as soon as you're on the trail, you're in avalanche terrain."
Winter Options
While the entire Berg Lake Trail reopened for winter use Dec. 18, two bridges are still closed and deemed unsafe. The trail to Berg Lake above Kinney was closed after major washouts destroyed several bridges this summer. But with water levels dropping, Parks has re-opened the route temporarily for winter users.
Ingles says they don't make recommendations for backcountry use, but he says rather than cross at the Whitehorn suspension bridge, which is closed, users can continue on the west side of the Robson River past the Ranger cabin until they hit Phillip's Creek and cross closer to Emperor Hill.
"Phillips Creek will have very little water and it will most likely be frozen over," he said. "Even the Robson River that high up will be quite shallow."
The Whitehorn campground, the whitehorn suspension bridge and the steel bridge north of the campground are all closed.
On April 1st the whole trail will close again for repairs and a parking lot expansion that will double the parking capacity—from 100 to 200 stalls.
"The hope is that people won't be parking up along the road," he said, adding that the expansion should look nice, aesthetically.
BC Parks says reservations for 2022 on the Berg Lake trail are delayed due to COVID-19 as well as the damage to the trail due to flooding.