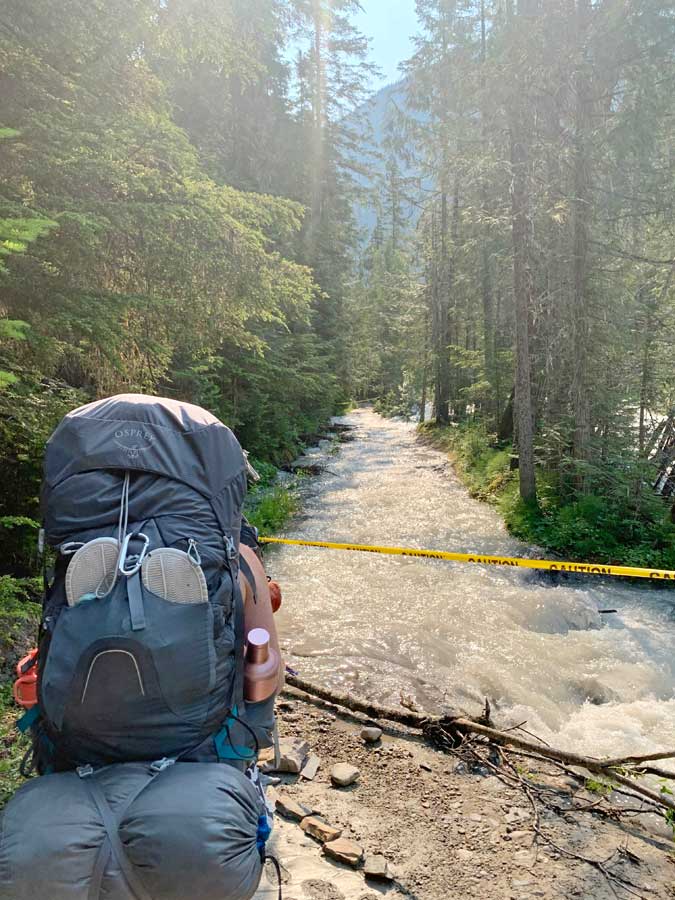 By Laura Keil
The Berg Lake Trail at Mt. Robson is out of commission for at least several weeks after Parks staff assess damage caused by extreme high water and a flash flood that took out a bridge.
Mt. Robson Park Corridor Ranger Sean Allin said the Berg Lake trail was evacuated due to high water and washouts on July 1st and 2nd. At first campers were told to walk out, but were later forced to go by helicopter after a landslide took out a bridge.
Early on July 1st, Allin and Mt. Robson Area Supervisor Elliott Ingles flew in to Robson Pass where they instructed people to make their way down to the trailhead.
"In a few cases, we had to turn hikers back that had just arrived at the shore of Berg Lake," he said. "Talk about being the bearer of bad news."
Several hikers were on the Snowbird Pass trail beyond Berg Lake and didn't know anything was wrong until they arrived back at their campsite.
Courtney Blaeser was one. She and her two fellow hikers got back to their tents that afternoon to find evacuation notices on their bags. But after an 18km trek, she said they simply didn't have the strength to walk out to the trailhead that evening (another 20km) so they made their way down as far as Whitehorn and camped there.
Allin and Ingles stayed the night at Berg Lake along with 15 campers, the pair sleeping at the Berg Lake Ranger Station. Little did they know a storm was brewing that would deal a devastating blow.
The forecast for the area had called for severe thunderstorms and a 60 per cent chance of rain. Allin said 8.5 inches of rain fell in five hours according to the rain gauge outside the Berg Cabin.
The heavy rain amassed into a flash flood in the Emperor Falls drainage, causing slopes at the base of Emperor hill to collapse which sent a wall of debris hurtling towards the steel footbridge just north of the Whitehorn camping area. The bridge was pummeled by a wall of rock and debris 20 feet high, nearly burying one end.
"I could barely recognize the area when I ran down there on July 2nd to ensure every hiker had been accounted for," Allin said.
Luckily, no one was caught in the slide.
Blaeser and her hiking group camped at Whitehorn that night and woke up around midnight to thunder and hail.
"I've never heard thunder so loud," she said. The rain was torrential. "Some people's tents got flooded about an inch inside their tent."
In the morning, the river was four feet higher than the night before, and the bridge they had just crossed was gone.
"We were the last people to cross the bridge the night before to get to Whitehorn," she said. "We woke up the next morning and there had been a landslide that completely took it out."
A couple people ventured in the other direction—towards Kinney Lake—to check trail conditions but soon came back with a report: the trail was impassable, the water up to their waist in the usually mostly-dry delta.
"There's usually hardly any water there other than the little area over where the island is. It was waist-deep all the way across that," Blaeser said.
About 35 people were flown out (15 from Berg Lake and 20 from Whitehorn) in collaboration with BC Parks, Robson Valley Search and Rescue, Emergency Management BC and RCMP, Allin said.
Blaeser said the Rangers did a great job:
"We saw three different rangers on the way down and it was great. They were very good with everyone, very calm and taking everyone's names making sure they got everyone."
At the end of the day, it makes for a story to tell.
"It was a Canada Day experience," she said.
A timely escape
Kevin Frame planned to go up to Berg Lake with friends, but he turned around at Whitehorn on July 1st after his wife phoned on the sat phone and told him their house in Vernon was threatened by fire (On a 45 degree day, a propane taxi had caught on fire and ignited nearby grass and trees). He didn't encounter anyone coming up the trail so he figured they had stopped handing out trail passes.
Frame said he didn't have too much trouble getting out that morning, and the deepest water he encountered came to his knees. In most situations he could skirt onto higher ground.
He said what was most concerning that morning was the lowest part of the Kinney Lake trail.
"The Robson River is right next to you for the first 4km. Anywhere that the river came at the trail on a corner, you had a high likelihood of eroding that trail," he said.
On his way in the day prior, he'd seen cracks in the trail.
"On the way out, half of the trail was gone into the river," he said. "That river is powerful."
Between June 30th and July 1st, the Robson River rose about six inches, Frame estimates.
"I think they were probably getting more concerned because the trail was starting to get eroded where it was being undercut … especially in areas like the avalanche path where the trail is quite a ways above the river and the bank is quite steep. If any of that gets undercut, I don't know how they would rebuild it."
BC Parks says the trail has sustained substantial damage as a result of flooding and while an assessment and repairs will start as soon as possible, the Berg Lake, Mount Fitzwilliam and Moose River trails will all be closed until at least July 18th. BC Parks says upcoming day-use trail passes and campsite arrivals for the trail will be cancelled and any fees will be fully refunded (no action is required by visitors).