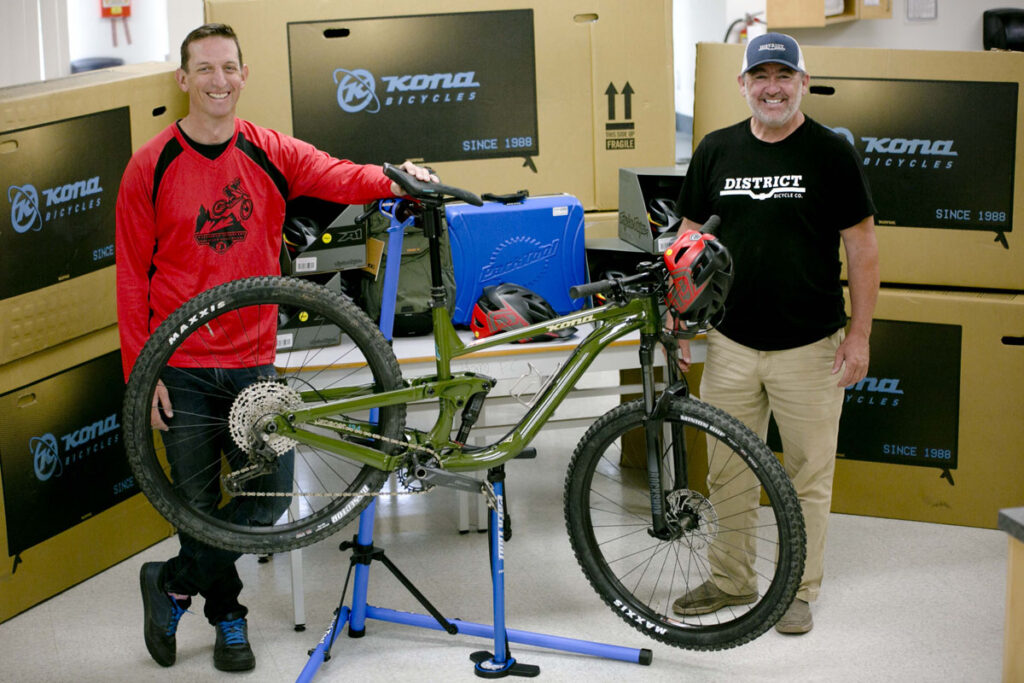 By Laura Keil
What does it take for a community to create a strong mountain bike culture?
Aside from trails, part of the answer is no doubt making it accessible to a community's youth, and an initiative by Valemount Secondary teacher Sean Kelly does just that.
Last weekend, a shipment of 15 Kona mountain bikes arrived in Valemount, packed into boxes. Along with them came helmets, pads, pumps, spare parts, work stands, and bike tools, all funded by a Columbia Basin Trust ReDi grant and sponsored by District Bicycle and Kona, which gave a deep discount on the bicycles.
The school has been busy emptying a Sea-Can of old filing cabinets and desks to make room for the bikes and bike gear. Kelly said the school's shop class has built a bike rack for the storage unit. John Osbourne of Valemount's District Bicycle says many people have come together to support the program.
"It's pretty cool how it's a collaboration of many people to put it all together," Osbourne said. "And all the kids being involved in doing it… that's what's special about it all."
Kelly says some students interested in participating in bike club haven't had a mountain bike and these new bikes will allow them to join. While bike club is over for the school year, Kelly plans to offer free summer programming for kids age 12-18. The first camp will run July 4-13, Tuesday, Wednesday and Thursday, from 10am to 2pm each day. The second session will run August 16-24 Wednesday, Thursday, Friday the 16th -18th and Tuesday, Wednesday and Thursday the 22nd-24th.
Kelly says the camps will focus on teaching riding and technical skills, while building fitness on longer rides along with teaching some basic bike maintenance. The camps will start at Valemount Secondary each day and activities will range from learning skills on the school grounds to bike park laps and exploring the trails in the Swift Creek network.
He can only accommodate 10 kids by himself, and is hoping some adult volunteers can join him (the only qualifications are mountain biking enthusiasm and a criminal record check). Those interested in volunteering can email Sean at [email protected]. There is no charge for the camp and youth can register by emailing Sean by June 30th.
Participants in the summer program will have access to the Kona bikes as well as helmets and knee pads if needed.
Sean coached students on a provincial level in both Alberta and Ontario. He says watching the students in bike club push themselves and learn new skills is part of what's rewarding.
"They're climbing hills that they didn't think possible; they're riding down hills that they didn't think were possible, and just really enjoyed the whole experience. That's building healthy lifestyles, and healthy lifestyles build healthy communities. So that's what the goal is really."