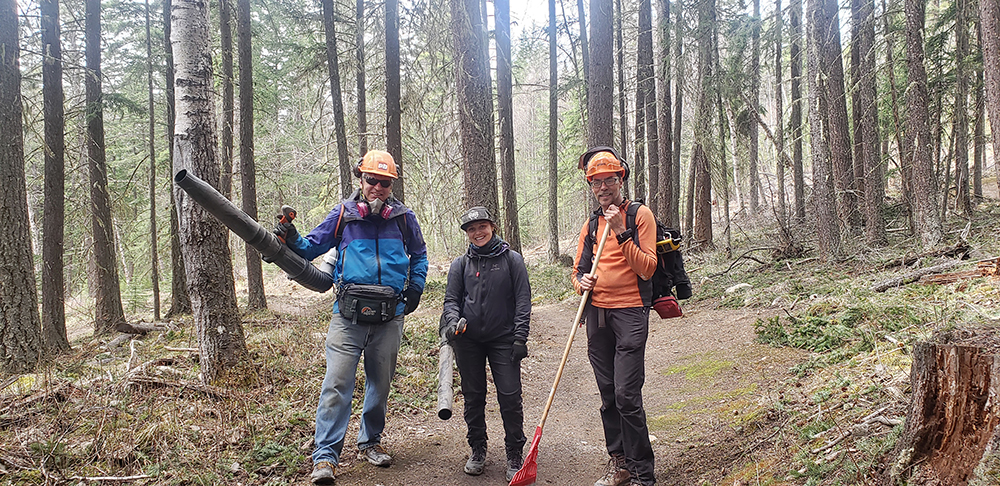 By Laura Keil
This season, the Valemount Bike Park will have its own regular maintenance team. Since the bike park's inception, Randy Pruden and other irregular staff and volunteers have been maintaining the local trail system, but the 2021 season will be the first year a regular maintenance crew will be working on the trails. Andru McCracken and Stephanie McDonald will join Pruden caretake the roughly 60 kilometres of Valemount Bike Park trails.
"This crew could not have come at a better time, " said VARDA Manger Curtis Pawliuk. "This year's windstorms were catastrophic to the trails. We have never seen this much destruction and debris from downed trees and limbs."
He said the crew has its work cut out for it playing catch up removing debris and organics from the trail surfaces, which he says will still need the help of local volunteers to complete. Once the initial spring cleaning is complete, the crew will then focus on repairs and upkeep such as trail tread patching, drainage repairs and general improvements to the quality the trails are known for, he says.
Pawliuk says trails are occasionally closed during maintenance, but the majority of the time a sign will be hung at the trailhead if a crew is working.
Tourism Valemount and the Valemount Community Forest have been contributing financially to the maintenance of the trail system for a few years, Pawliuk says, and this year, the program is getting a big boost from the Columbia Basin Trusts "Basin Job Experience Program" which made the hiring of two additional employees possible.
Many trails are already open though Pawliuk warns of several downed trees over the network.
"Riders are urged to ride with caution as we work on clearing them out."
Open trails include: Moby Dick, Bacon, Munday Grind to Selwyn, Truck Yeah, Inversion, Provincial DH, Northern Traverse, Southern Traverse, Retro Version, Gully Trail, Subversion, Ale Trail to Tech Zone, Lowest Green, Lower Blue South, Upper Green, Inorout.