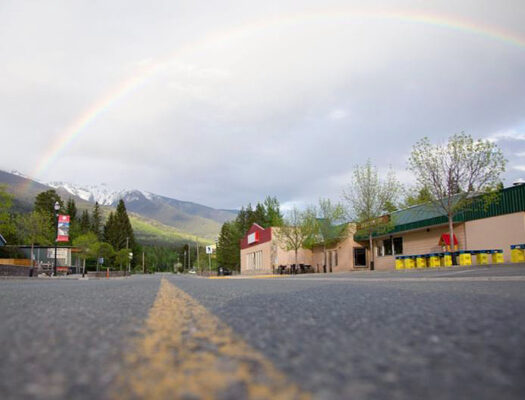 By Andru McCracken
---
Rob Libera is the proud new owner of the biggest commercial complex in Valemount's downtown core, the home of Glacier Fire Pizzeria, the BC Liquor Store, and the IGA. He was introduced to the property and made an offer on it, but he really didn't expect to hear back. Then he got the call and a deal was made.
Libera has never been to Valemount.
He likes the reputation of the community and mentioned his support for Valemount Glacier Destinations Resort. Libera has heard about some of the local offerings and is keen to stock up his fridge with beer from the local brewery.
"I just love the whole idea. I love the sound of the community and that's why I named the company Valemount Holdings," said Libera. "Everything went ding, and there's a bit of magic there."
He'd like to fill the vacancy in his building on 5th Ave, formerly home to Fields.
"I'm looking for good ideas," said Libera.
He said a few people have made some inquiries, both nothing serious yet.
Libera said he's anxious to be a good landlord and fix the things that need attention, and that's proving to be challenging with him being so far away.
"If it was in town I could get on it. I like to be a good landlord," he said.
Libera is a vegan, owns a rescue dog (who is a handful), has rescue horses on his farm in Surrey and is strongly pro-oil and pro-pipeline.
He hopes to help promote the town, and is looking forward to a visit this summer.
"It'd be a long trip to do alone. I'm currently single now, but you never know," he said with a chuckle.
"From what I've heard Valemount is a really beautiful little town. That's where everyone does all the powder skiing."
His main gig is as the owner of Blue Star Motors, a used car lot specializing in high performance cars like Porsche and Ferrari. Libera holds many commercial properties, but his other holdings are in the Lower Mainland. He owns a 100-year-old house near the water in Kitsilano and spends most weekends playing farmer on a piece of property in Surrey, which will soon be turned into warehouses. In the meantime, he's keeping rescue horses there.