By Andru McCracken
---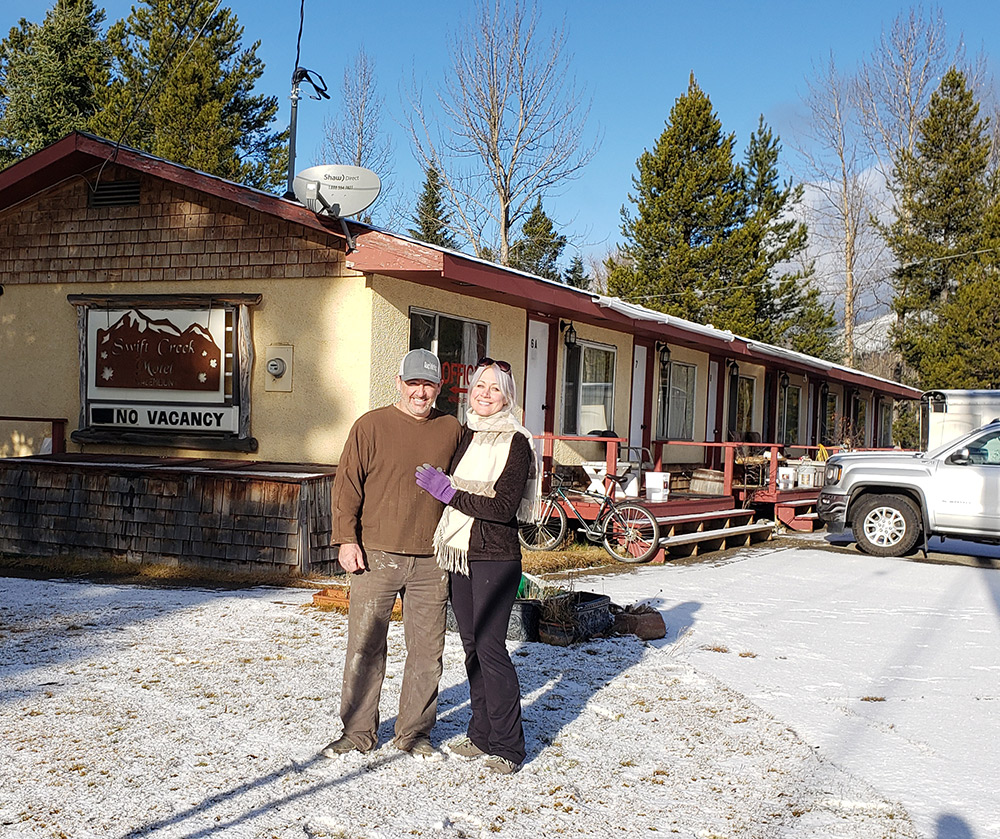 John Osborne and Colin Lyons, two Kamloops-based entrepreneurs, have purchased the Swift Creek Motel and have rezoned it into a residential property.
The pair are in the process of a massive upgrade, turning each unit into a well-appointed, if small, apartment.
They were drinking Three Ranges beers sitting around a fire in Valemount when they made the decision. The men got hooked on the community at the Valemount Bike Park. Now they both own homes, and are partners in the motel property.
I met Osborne at the property on Saturday where he and his girlfriend, Amy Kay, were helping contractor Regan Lewis and Henry Tchir renovate a vacant room into a suite.
Osborne is big into the mountain biking scene in Kamloops: he's an owner of District Bicycle Company.
"To come here and experience this, the bike park, it's just priceless. The background you are playing in and the atmosphere," he said. "It's not busy like Whistler. It's not busy like Squamish."
Osborne believes the community is just starting to get noticed.
The changes at the Swift Creek Motel will be sweeping; each unit will get a small kitchen, and the property's location next to the creek will be leveraged.
Lyons said it was clear the motel could use some attention.
"It looked like it could use some help—a diamond in the rough."
They've already moved the no trespassing signs from the back of the property and they envision a connecting trail passing through the property.
Lyons' has some considerable landscaping chops (his company, Lyons' Landscaping has won Kamloops' best landscaping business for 12 years running) to incorporate the breathtaking views at the back of the property into the living space.
Osborne also owns Sun Valley Painting in Kamloops.
They made a commitment to work with tenants of the motel.
"Everybody needs a place to call home," said Lyons. "If we do our part as a landlord and owner and make it beautiful and presentable people will be proud of where they live."
Osborne said the tenants are on board.
"When I talk to people they feel like they are a part of something," said Osborne.
"We never knew we had so much help," said Lyons.
"They are going to take real ownership and enjoy living there and really take care of it."
A resident who declined to be named said he thought the pair were doing a good job and liked the improvements he saw.
Lyons said that as a homeowner in the community he wants to be proud of his contribution.
Osborne's girlfriend said she came up to help renovate this weekend because she wouldn't miss a trip to the community with Osborne.
"If I don't show up I have FOMO,"Kay said and laughed.
Lyons said when he and his partner Lisa get on the highway for a trip to Valemount, the mood changes.
"As soon as you drive up and hit Avola, you start to get relaxed. We're getting into Valemount mode. It is quite the place for people that love outdoor recreation."
So far Lyons and Osborne think they are on the right track.
"It's becoming clearer we made the right decision and to call it our second home," he said.
Osborne said that in the age of COVID-19, more and more people are going to be mountain biking. He calls it a true family sport that people can enjoy together, and that's one of the reasons Valemount's star is rising.
Osborne plans to test the idea of a satellite bike store next summer in the house he has bought next to the Gathering Tree (Nancy Zotek's former home).
He's keen to join the fray on 5th Avenue with Three Ranges Brewing Company and Glacier Fire Pizza.
"That little hub is magic," he said.