By Andrea Arnold
---
Melanie and Will Chitty started their adventures with raw dog food a few years ago to help their then-nine-year-old dog Max.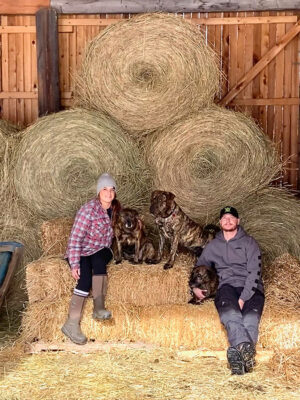 "He started having what we called episodes," said Melanie. "He wasn't being himself, seemed in total discomfort and panic continuously."
After a year and a half of tests and medications, they could tell there was more to it. "I fixated on his gut health, was able to wean him off all medication and now he's 13 and doing great," she said.
In Max's situation, switching to raw likely saved his life. The Chitty's other dog, Luna, has also been on a raw diet resulting in no more skin irritants, less dander, and no bad breath.
They've become so passionate about the raw food that they've launched a new business based out of their Tete Jaune property: Hidden Haven Ranch Raw Dog Food.
Raw food includes dog foods made from raw parts of a butchered animal, with no fillers. The food is prepared and frozen until it's feeding time.
"Some people say that it's too much work, but honestly, it's not; you take a pattie or some cubes out of the freezer and let them thaw before feeding them to your dog," she said.
Raw dog food has grown in popularity and availability, as dog owners say they see improvements in digestion, appearance, allergies, gas, weight management, dandruff and energy. Dog owners also say they benefit from less poop to scoop, better dog breath, and less dog odour.
Melanie usually uses the K9 Choice products, but also prepares some of her dog's food herself if there is food in the fridge that would otherwise go bad. She loves the convenience of the K9 Choice option.
"We have been feeding K9 Choice for approx 2 years," she said. "They are 80% meat 10% bone/organ 10% veg/fruit. We've stuck with them because of their consistency and quality in their products. We deal directly with the farm, which means our order comes straight from them and nowhere in between. K9 has been in business for over 20 years with a great reputation and knowledge for canines."
Dogs can get chicken, beef, buffalo, rabbit, tripe, bones and cold smoked treats. "The only thing we will not carry is llama," said Chitty. "Due to me making an oath with Hermes, Tete Jaune's Llama."
They hope to launch their website soon, but can currently be contacted on Facebook.
They will be delivering to McBride when there is need.
"We are hoping to achieve once a week," said Chitty.
The pair travel to Valemount several times a week so there are multiple opportunities for deliveries. Hidden Haven Ranch in Tete Jaune will also serve as a pickup point for scheduled pick up.
Once the order has been placed, the shipment arrives within 24 hours on a refrigeration truck to ensure the product has stayed at a safe temperature during transport.
"We hope through this venture, we can offer convenience, quality, consistency," said Chitty. "And, most importantly, supporting others with the overall wellness of these beautiful creatures that we are so lucky to call our best friends."