By Rashmi Narayan
---
When the Gathering Tree coffee shop in Valemount was forced to change its eatery to take-out-and-delivery only after the B.C. provincial health officer Dr. Bonnie Henry ordered all restaurants close their dine-in operations, its sales dropped 90%. Owner Sherral Shaw continues to keep it open 11 am to 2 pm on weekdays because she refuses to be dictated by what's happening around her.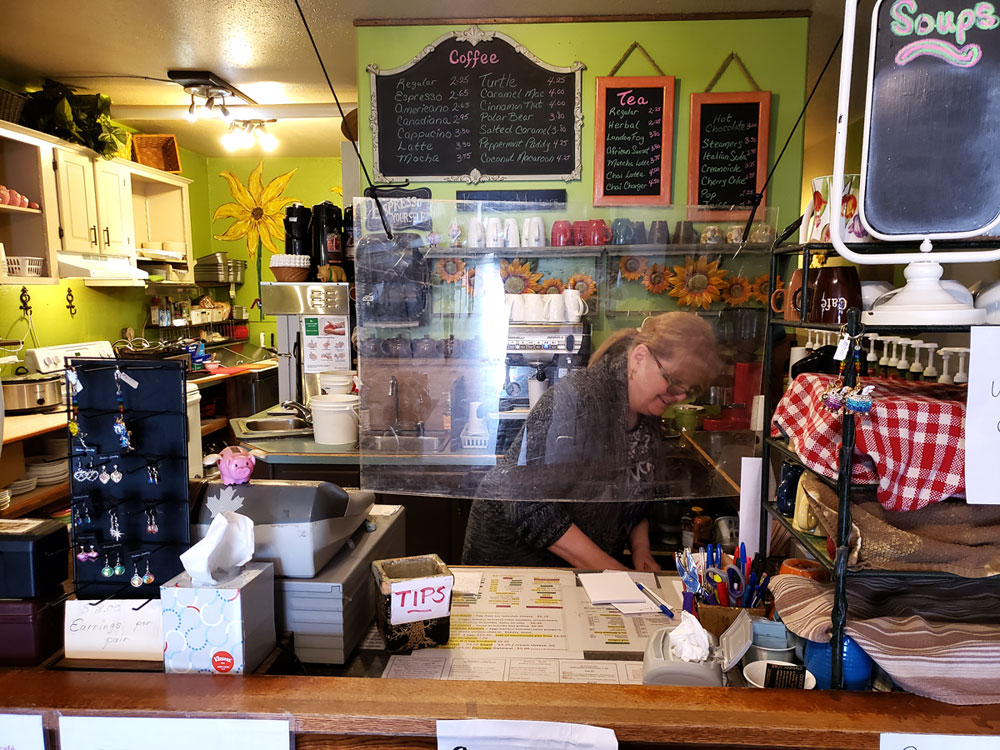 "I feel the need to be open for emotional morale. I feel that the town has a need for the Gathering Tree."
The daytime has been slow, but Shaw and her volunteer cook Michele Hayman are offering take-out dinners twice a week with the help of volunteer driver Sherry Tinsley.
"Dinners are the only thing keeping us afloat. There's just enough to pay groceries and one small bill."
Shaw is one of the lucky ones whose landlord understood she can't pay rent right now. That will improve when the federal Canada Emergency Commercial Rent Assistance program kicks in for commercial property owners who can in turn subsidize or forgo rents. The B.C. government is also reducing school taxes on commercial properties to bring down commercial property tax bills 25 per cent to help small businesses.
Adapt-or-die has never been more relevant to small businesses in the Robson Valley whose owners have been forced to scale back or shut down.
Melanie Chitty was forced to close down her Valemount business Unique Boutique Salon & Spa on March 22 after the provincial health officer's order to close all salons. Chitty is strictly focussing on retail using social media and word of mouth. Since the salon is closed, Chitty drives to drop off products to her customers and is just making enough to cover her overhead costs. She's taking advantage of the Canada Emergency Business Account loan of $40,000 and relying on the Canada Emergency Response Benefit for individuals to tide her through.
Chitty feels the pandemic has allowed her to simplify her business and go back to why she entered the industry – to make people feel good about themselves. Having been in business for 7-1/2 years, Chitty knows her clients and their individual preferences. She creates custom hair colouring kits with step-by-step instructions for her clients. She put together 65 mini-facial kits, which sold out within a week.
"I am using the tools I am allowed to continue serving people," she says.
Chitty's ever-optimistic attitude allows her to see the positive side of the pandemic.
"I am so appreciative of being open to simplicity. Before, simplicity was boring or scary or anti-stimulating."
Columbia Basin Trust's Basin Business Advisor (BBA) program serves Valemount. CBT is offering $20,000 emergency loans that are interest-free for the first three months. BBA advisor
Roberta Ciolli invites any existing Valemount business to reach her for support. Her personable nature has allowed her to develop a close relationship with some long-term clients.
"Some are calling me crying."
Ciolli feels that the pandemic can be an opportunity.
"I make recommendations, but business owners are usually too busy to implement it. It is unfortunate, but now some have the time to do that."
Ciolli feels that business owners can assess what's working well or what kind of marketing they should plan for.
Community Futures of Fraser Fort George (CFDC) serves Robson Valley businesses. While a business loan might sound appealing, general manager Susan Stearns cautions it might be a knee-jerk reaction as a business may be able to sustain operations for 3-4 months without incurring unnecessary debt. Businesses can seek advice from CFDC to manage their short-term and long-term cash flow. Stearns feels this could be an opportunity to help pivot the business or scale back to enhance cash flow. CFDC is also offering a free online workshop called
'Survive, Stabilize and Build a Resilient Small Business' apart from emergency loans at this time.
Northern Development Initiative Trust is supporting local businesses through the Love Valemount program. When a person buys a gift card of at least $25 at an eligible Love Valemount business, they will get an additional $25 gift card emailed to them for the same business.
The Rocky Mountain Goat newspaper has partnered with Rashmi Narayan of Spirited Exchanges Consulting to provide a living document with a summary of financial support programs and advisors available to small businesses, including those that have had to close. Contact information for BBA and CFDC are available in the document posted on the Goat's website:
tinyurl.com/y8zwoabm
With support from the Facebook Journalism Project