By Laura Keil
---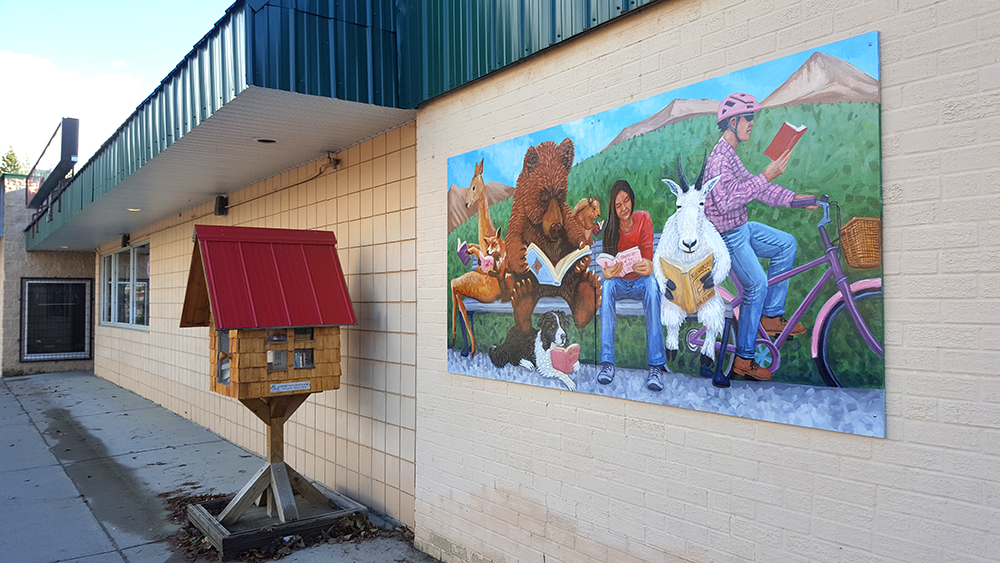 You may have noticed some new or updated murals around town.
The Valemount Arts and Cultural Society received $2,500 from the Columbia Kootenay Cultural Alliance to add new murals and refurbish old ones in the existing Art Walk that was created over a decade ago.
VACS president Neysa Weatherbee said the original art walk was mostly a heritage theme, but the current murals are more open. A new mural outside IGA painted by Peggy Hubley was inspired by the Little Library, for instance.
Not all the new murals have been completed or hung, and Weatherbee expects the murals and accompanying brochure to be done by spring. Some murals were too weathered to refurbish and have been taken down, but most will be replaced with new ones.
"Everyone's been so supportive. It's been so encouraging," Weatherbee said.
VACS also received money from the Community Forest.
Other murals include a refurbished Paddle Wheel painting at the Super 8 hotel and a snowmobiling scene in Clemina outside the Moose Pub – both paintings done by former resident Lucille Mintz. VACS hopes to commission an Indigenous artist for one of the murals.
Weatherbee said they hope the art walk helps draw people into town from the highway.
She said public art is part of a diverse and healthy community.
"It's something that makes people happy and healthy," she said.
It's also a way to bring artists into the light, from their solitary home studios into the public sphere where we can know them.
"Artists have this amazing ability and when it becomes a part of the community, you say 'Wow look what they painted!' It should start conversations and give people a reason to think."