By Andru McCracken
---
A proposed 12-ft foot sculpture for the Big Foot Trail was tabled at the last council meeting.
The project was worth $10,000 to a local artist.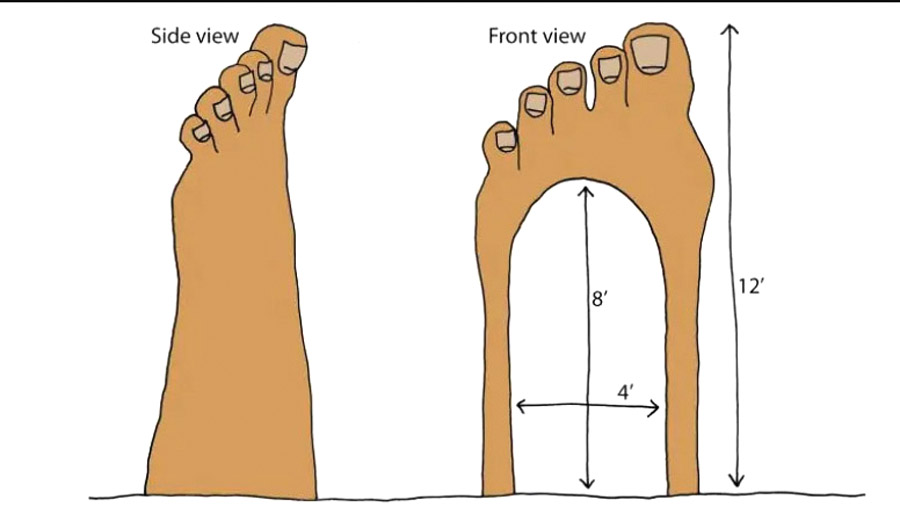 Tom Jamin is the president of the Valemount Arts and Cultural Society, the group which applied for the funding, and he and his partner Peggy Hubley would build the piece. He has been hesitant to speak about the piece because of his dual role, but after council tabled the proposal he's decided to speak out.
"What irks me is that the Village of Valemount doesn't have a single cent of investment in it," said Jamin.
He said 80% of the funding comes from the Columbia Basin Trust's Public Arts Grant and the other 20% would come from the cultural society.
"That's on top of an initial $1200 trying to find artists to put proposals forward," he said.
Jamin said that it may be that some people have phoned the village to say they did not approve, but Jamin said the society was unaware they needed to raise local support for the project outside of their initial letters of support.
"Personally I feel bad about it, because of my own reputation, Peggy's reputation and VACS' reputation. We're not known for doing bizarre or ridiculous, stupid work," he said.
Jamin said the cultural society has been bringing entertainment to the village for 12 years.
"It is a huge amount of effort and manpower and this is the kind of thanks we get from the village," he said.
Jamin believes with two councillors adamantly against it, there is little hope it will go forward.
He said there have been offers to install it on private land.
"It's an interactive art piece, it's [designed for] the Big Foot Trail. It doesn't make any sense out of context," he said.
Jamin said council made some suggestions for artwork, but they are all essentially branding, not art.
"The idea of having a sasquatch with a hole where you put your face in? That's not art, that's a gimmick," said Jamin. "I think they stepped out of their realm. It's not theirs to judge. They should ask if it's safe and if it's feasible. Not, 'Do we like the art?'"
Neysa Weatherbee, head of the Valemount Arts and Cultural Society's Public Arts Committee, presented the proposal to council and says she feels taken advantage of.
Weatherbee said if council wanted a widespread show of public support they could have provided it.
"They didn't ask us for any," she said.
Regardless of whether the project is approved, Weatherbee admits the process has been positive because it gets people talking about art.
"It's good stuff for a healthy community," she said.
"By having art in the community it creates a community of understanding. It's positive."
Councilor Hollie Blanchette made the motion to table the request and added some new procedure to the process if it comes forward again.
"I would like to see if council and the village work together with VACS and the public and address this again and work with more local artists and community members," she said.
According to Mayor Owen Torgerson, consultation was the missing piece and a petition in favour of the piece could bring it back.