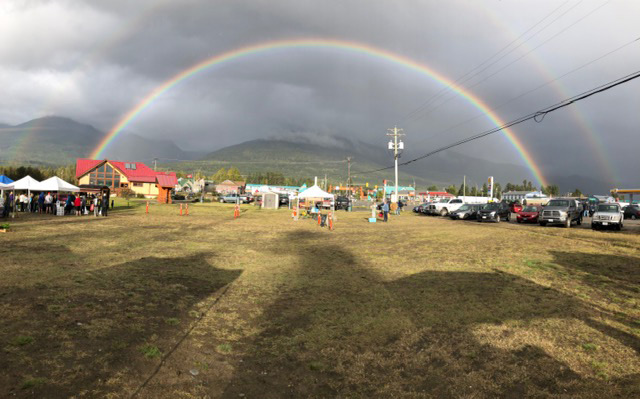 It`s Thursday, 2 o`clock in the morning –
Yann is already out of bed;
He`s mixing ingredients, and whistling a tune –
Baking his sourdough bread.
The Balsam Ranch in Dunster –
Is site of another busy scene;
Deb and her helpers are gathering and packing –
Stacking the trailer, focus on all things green!
Valemount`s Paul selects his crop of mushrooms –
Each one unique, their growth is insane;
At the table you can sense his passion –
When showing off the newest "Lion`s Mane".
Debbie and Deb offer lovely meat pies –
There`s local coffee, perfected by Elliott`s team;
Gwen`s "Cookie Monsters" use recycled paper –
And Lilja`s jewellery is a little girl`s dream!
Grace`s jellies are loaded with "Wild Things" –
Darlene`s donuts made in Mennonite Style;
Tim explains the world of "Hot Iron" –
And Sylvia`s Hydrangeas make shoppers smile!
Annie and Jesse teach math to their children –
While weighing tomatoes on the scale;
Shirley and Terry get the barbeque going –
No cooking tonight, they have burgers for sale.
You`ll find Jenn`s mix of healthy granola
Jean Ann`s flowers, grown beside McKirdy Creek;
Sherrie`s "Emerald Earth" looks after your beauty –
And Betty`s Alpaca socks provide comfort, with colors so sleek.
I bake, make chutneys and remedies –
Sell veggies and herbs I am able to spare;
Have my books and greeting cards on display –
Supported by my children; it`s a family affair.
Christine and Sapphire make sure we behave –
Prepare the COVID waiting line;
A market like this builds community spirit –
We care for each other; let`s hope we`ll be fine.
When Loretta presents her squashes and pumpkins –
We understand autumn is coming near;
We`ll put our tents and signs in store soon –
And look forward to meet again next year!
Maria Lerch,
North Home Ranch, Valemount