By Andru McCracken
---
Sales are up for Deb Cochrane, who runs Balsam Ranch Farms.
"End of March, April, May, meat sales have just gone crazy," said Cochrane in an interview after a Thursday market day in Valemount.
But don't expect to find Balsam Ranch roasts on tables from Albreda to Dome Creek anytime soon: they only sell meat that is born and raised on the farm, it would be two years before they can increase the amount of beef they raise.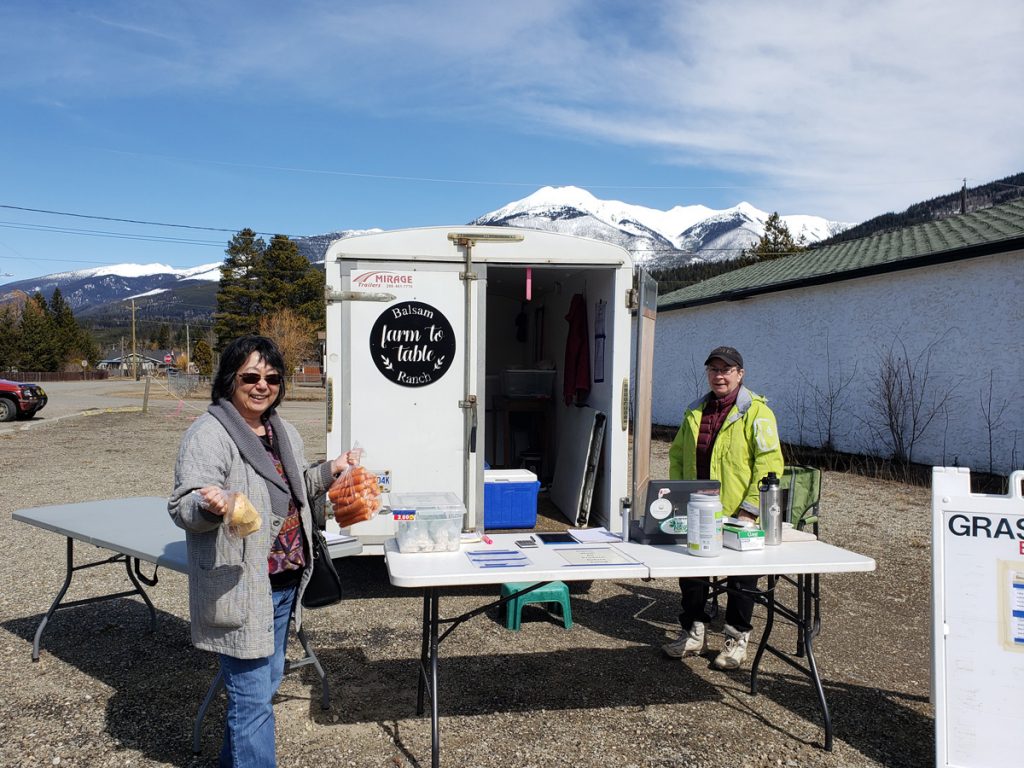 Despite the concerns of an economic collapse and the fragility of the supply chain, concern for her own health and loved ones around her, Cochrane said COVID-19 on the whole has been positive.
"Change is never easy, and left to humans, we'd never change. Sometimes something has to step in and shake the pot."
She's seeing people buy her product that have never shopped at the Farmer's market. To her it's a sign of the times.
"I think local sales are going to rise. There is kind of a movement in the air; people are going, 'Whoops, maybe this supply chain is not as secure as we thought.'," she said.
She sets up every two weeks in Valemount's commercial core to sell carrots, potatoes, fresh greens and meat.
She'll be planting more potatoes and carrots for the fall.
"I just have a feeling the economy is going to tank and there might be people needing food this fall," said Cochrane. "We may be able to sell it, but people may not have any money to buy it too. I'll see if I am wrong."
Pre-orders
Not only is she selling much more meat, and getting a wider array of people buying veggies, she has also decided to allow customers to pre-order and pay online to take people out of long, sometimes crowded, line ups.
"They can come a separate way and pick up the order and they're gone, not everybody has access to the internet for online shopping so I'm going to bring product as well," she said.
She has a license that allows her to slaughter 10,000 pounds of beef per year on her farm.
She uses Mark Roth of Uncle Mark's in McBride to slaughter her cows in a stress-free way on their property.
Cochrane considers her meat fairly expensive, although prices in the grocery store continue to catch up.
She isn't actively looking for new customers, because she is limited to the amount of meat she can sell.
"I don't have enough meat to start supplying McBride," she said. "I just want to keep it local to Valemount and Dunster."
Things are going well at the ranch and one of the organizations she donates to is the local Meals on Wheels program.
"Not everybody can afford my product, but I kind of like to be able to have the community have some benefit from it."
The economy, a vaccine and following direction
Dr. Ehsan Latif, a professor of economics at Thompson Rivers University said that so far the economy is doing better than expected under COVID-19 and it looks like a recovery is in the works… if things continue to go well.
"We are at the bottom of our economic cycle. Until the end of June – that will be the worst part and we will soon go upward to the phase of recovery," said Latif.
The GDP, or gross domestic product, the total value of all the goods and services produced by the Canadian economy in a single year, hasn't dropped as much as forecast, said Latif.
Canada's central bank believes the second quarter GDP will decline between 10 and 20%; earlier predictions forecasted the GDP dropping by as much as 30%.
But, for Latif, the question remains when and if a vaccine will be created for COVID-19.
"Unless we get this vaccine we cannot solve this problem," he said. "As long as we don't have a vaccine we cannot expect a full recovery. We have physical distancing that creates a business cost."
That, combined with lack of confidence, is preventing people from spending money which could keep an economic recovery sluggish.
Latif said BC is one of the jurisdictions with the best record against the virus, comparing favourably to countries like South Korea.
"BC is better than most of the provinces, because we follow directions; if we don't, maybe there is a second wave," he said.
For this reason Latif considers a vaccine essential, and points to the history.
"One hundred years ago we had the Spanish Flu that killed 30 to 50 million around the world," he said. "Most people died in the second wave."