By Andru McCracken
---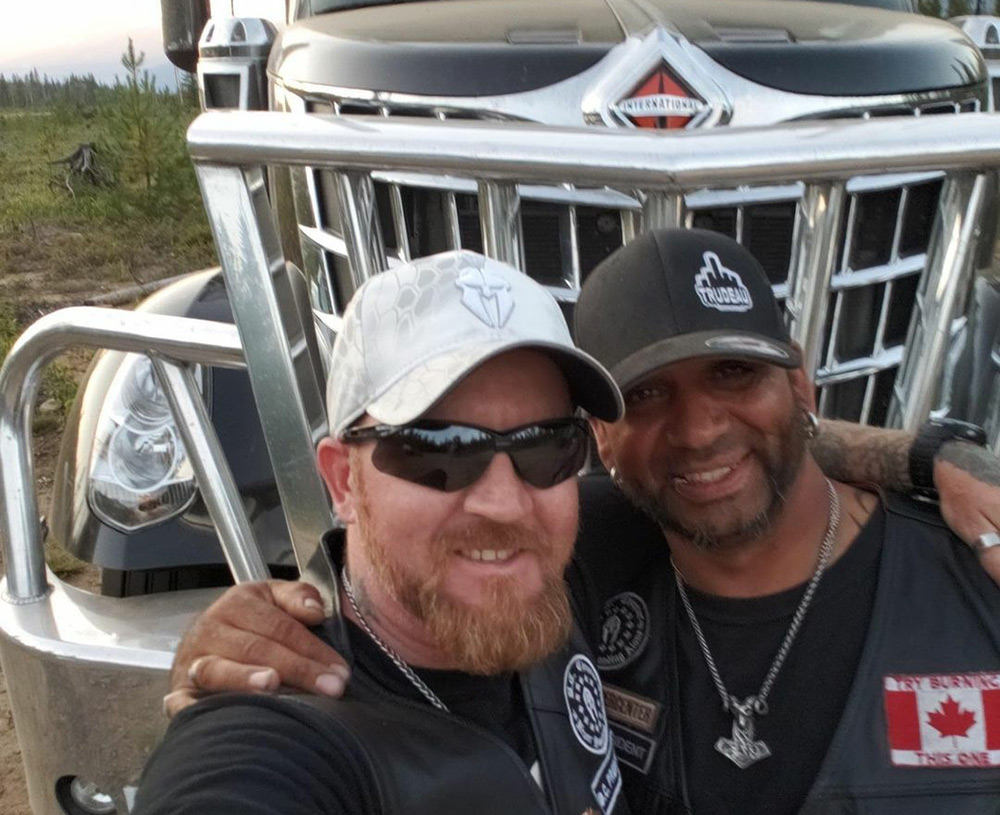 The Canadian Armed Forces is investigating why a member of the Valemount Canadian Rangers' wasn't expelled sooner for his affiliation with the Three Percenters of BC and the Soldiers of Odin.
Erik Myggland had been with the Valemount Rangers for about 10 years.
Myggland no longer lives full time in Valemount, he now lives in Alberta, but regularly commutes here for work.
Myggland gained notoriety after an August 25th article in the CBC named him as an example of troops being involved in far-right groups.
Captain Graham Kallos is the public affairs officer in the 3rd Canadian Division Headquarters of the Department of National Defense which is in charge of the 4th Canadian Ranger Patrol Group.
"The Canadian Army [has created] a team to conduct a summary investigation into the command climate and processes at the 4th Canadian Ranger Patrol Group," he said.
"We are expecting them to outline their findings in a report that will be delivered in late November or early December."
But there is no question that Myggland is on his way out of the rangers.
"Myggland will be released in due course," said Kallos.
Kallos said a military directive CANFORGEN 016/18 (short for Canadian Forces General Message) put the matter in black and white.
"To ensure that Canadian Armed Forces reflects the Canadian ideals of diversity, respect and inclusion, and that it provides a workplace free from harassment and discrimination, the following conduct is prohibited […]
participation in an activity of, or membership in, a group or organisation that a CAF member knows, or ought to know […] promotes hatred, violence, discrimination or harassment…
Prohibited activities include those related to groups that a CAF member knows, or ought to know, promote racism, sexism, misogyny, violence, xenophobia, homophobia, ableism and discriminatory views with respect to particular religions or faiths…
CAF members shall ensure that their online activity, whether on – or off – duty, does not reflect discredit on the CAF […] It would be prohibited for a CAF member to post anything on a social media site of an organization that is known to promote discriminatory views"
A CBC story brought Myggland's affiliations to light and now the chain of command is following up.
"The reason they are investigating right now is to conduct a summary investigation into why it took so long to get the administration caught up with Mr. Myggland. We're looking deeper into the circumstances of the unit and what's happening out there," said Kallos, from his office in Edmonton. "Being online, wearing the patches. It is unacceptable. It is black and white. If in doubt, a member is expected to seek guidance."
Kallos doesn't have a list of organizations that forces are forbidden to join.
The organizations in question are notorious in other jurisdictions for spreading hate and sometimes turning that to action.
In 2017, a 23-year-old Oklahoma man plotted a vehicle bomb attack on a bank in downtown Oklahoma City, and later said he subscribed to "III% ideology."
In 2018, three men were arrested in connection with the bombing of the Dar Al-Farooq Islamic Center in Bloomington, Minnesota. The bombing was non-lethal.
One of men involved, former sheriff's deputy Michael B. Hari, had connections to the Three Percenters.
In an interview with the Goat, Myggland said he was asked by his commanding officer to meet with the Canadian Armed Forces Counterintelligence Unit. Myggland said he promptly complied and fully briefed them on his past activities with the Soldiers of Odin and his current activities with Three Percenters in BC.
"The most intriguing question [asked by CBC journalists Murray Brewster, and Elizabeth Thompson] in that article was why did the armed forces allow me to serve for two years after being investigated?" said Myggland.
"It's a pretty simple answer: because we weren't doing anything wrong."
Valemount Patrol Commander Clayton Gee would only say that Myggland did not preach hate or recruit other members while in his presence and then referred us to a public relations officer.
Myggland is still, at the moment, a ranger, though the military has given him a notice of release.
"I was going to retire anyway, because I just haven't been active in the rangers for two years," he said.
"I'm fine with being released, but it absolutely matters why, because they put it on the […] form involvement in a hate group. I can't stand for that because it is absolutely rubbish."
When Myggland started getting involved in the Three Percenters of BC it was a Facebook group.
"There was nothing happening and there would be some racist f#$@kers. And I would jump on there right away and I'd be like you're a f@#$ing idiot and I'd shoot him down," he said.
He was asked by another chapter to organize the group.
"I took the reins and I literally made it into a survival group. There's just a bunch of guys that used to get together and we would train on ropes and knots and horticulture and what plants you can and can't eat and we do firearm safety and proficiency," he said.
He said they would practice using firearms at a firing range. They also conducted military drills with airsoft rifles.
"Basically the whole point of the Three Percent of British Columbia was to have a group of people that could get together and survive in the event of any sort of a world disaster or World War or an attack or government collapse."
Myggland said that while the idea seems outlandish to many, the government does this too with doomsday bunkers at the taxpayer's expense.
"Our military trains for those very same scenarios every single day. I don't think it's unreasonable for the citizenry to be prepared," he said.
Myggland categorically denies the Three Percenters of BC was racist while he was organizing.
"If I wanted to be in a hate group, they exist. I don't do that," he said. "I have not done anything unethical. I'm not racist or hateful."
Jason Devine of Anti Racist Action based in Calgary called the Soldiers of Odin proto-facist.
"The essence of facism isn't tied to any one symbol, it's the logic of the actions," said Devine. "They are actively involved in anti-immigration policies. There is no way around it."
"If Myggland was at any time involved in the Three Percenters, these are people that are literally preparing for a war. People in this militia movement see the state as failing them and that the white community is under attack and the idea is we have to arm ourselves and be ready."
"When you have it in your mind you are out to save the world and it depends on you, it's a heady, toxic mix."
Devine doesn't doubt that Myggland censured and expelled egregious racists from these groups. He said even neo-Nazi groups go through purges.
"You just got rid of [those] who didn't know how to speak in coded language," he said. "You might tell off-colour jokes with your closest peers, but if you can't reign it in at the right place and right time…"
Evan Balgord, executive director of the Canadian Anti-Hate Network said that the Three Percenters is explicitly anti-muslim in words and action.
Balgord reports that US members of the Three Percenters said the group got their start defending anti-Muslim rallies and marches.
Myggland said that any group that allies itself on the right is labelled 'alt-right' and neo-Nazi, but Balgord said this is categorically wrong.
"There are plenty of other right wing gun groups. Whatever people's feelings are when it comes to us as an organization, we only care about groups that have demonstrated they spread hate," he said.
"If a new organization wanted to practice with shotguns and learn how to freeze dry goods, we have no problem with that. What we have trouble with is xenophobia."
While Devine and Balgord had information about the threats posed and actions taken by the Soldiers of Odin and the Three Percenters, neither had specific data on Myggland.