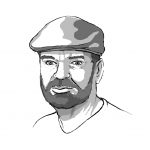 By Andru McCracken, EDITOR
---
It wasn't without much hesitation that I was dragged away to Canada's largest, hottest city to help settle the unsettled estate of a close friend's distant relative. Instincts told me this was going to be a hard trip.
Toronto, beautiful in its own right, has been a poor substitute for summertime shenanigans at home. Instead of hurtling down single-track chasing death itself, I'm standing shoulder to shoulder with the beaten down commuters of Toronto making arrangements. During this time of pandemic, every second seat bears a sign marked 'Please keep vacant for social distance.' Less seating means bus riders stand face to face sometimes smashing into each other as the bus careens through traffic. The driver's deathwish is the only thing reminiscent of home. He'd have fun on bike trails in Valemount.
Fortunately for most of us, death doesn't happen a lot, but that means when it does happen, there are a lot of new and different things that need to be done. Dealing with death is often new and different, but that's just the start of it.
Grief brings even more trouble.
Near as I can tell, grief clouds judgement. As I interact with the bereaved, I can see how their faculties are dulled.
Grief reduces people's ability to take in new information, to learn new things, to adapt and to make good decisions.
That's bad enough, but you'll need to add in another factor to get a true picture of the difficulty in dealing with death: a lot of people are literally terrified about thinking of death. They recoil when they are presented with any evidence of their own mortality and the utter certainty that one day they will die. Making plans for a deceased loved one while experiencing this terror is kind of like driving a car without being able to look out the windshield. This makes easy tasks difficult.
Family dynamics add a whole other layer of complexity.
If you decide your time is up and it's time to move on, be a pal to the friends and family that you leave behind and leave a will. Also make sure that what you write actually constitutes a will.
Let your loved ones know what to do with your body, how to divide your estate. Make it clear. Name your executor, so the family doesn't have to guess.
Death, I'm finding, is a really difficult thing. Personally, I strongly advise against it.