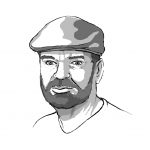 Andru McCracken, EDITOR
---
COVID has been really hard for a lot of reasons, but adopting the attitude of gratitude is a useful exercise.
COVID makes me younger and smarter
Our communities are younger and better educated thanks to COVID. Quite a few young people enrolled in university are staying at home.
It may be a downer for them, but it's great for us.
Having young people living in our communities while their minds are challenged by further education from around Canada, and in some cases the globe, is exciting and cool. Last week we carried a story about university student Pierce Longuskie's understanding of McBride's troubled namesake.
We're already seeing the influence of having post secondary students back home.
What are the implications of 10 or 20 extra minds in the valley? There will be an impact.
COVID improves community
Oddly, COVID makes this place better. On a recent trip to Toronto I told some people I was from a remote village in the mountains. They practically swooned.
"That's a good place to be right now," they said.
Yes, yes it is.
COVID disrupts
Many new opportunities are opening up for rural communities like ours. Universities are just one institution that has had to change their format, and guess what?
Their response means someone from 700km away can participate in classes. If there are courses you want to take, anywhere in the world, this is the time to do it.
Many institutions, mentors, tutors and teachers of all sorts have had to move their classes online. Taking music lessons? Just check and see if Eric Clapton has any room in his class.
Think about the great conferences and workshops you have always wanted to attend. Now you can.
COVID opens doors
The pandemic has been hard on the economy as we know it, but it has cracked open up niches for entrepreneurs. It is amazing to see all of the businesses that have started up or had new ownership during these times. Two examples that I frequent daily are Vale Coffee and the Gathering Tree. The Gathering Tree changed hands in August, Vale Coffee started in July. COVID hasn't killed the economy, but it has just changed it. Take a look around. Can you see niches that need to be filled?
COVID and the new neighbours
The valley has always been a refuge for city-weary folks. When the dust settles, more people are going to decide to make the move out here. It has become even more clear that this is the place to be. That's good in a lot of ways. More bodies for team sports, more volunteers, even more kids in the school.
COVID brings heaps of bad along with it. Sickness, inconvenience, deepening isolation from each other. These things are bad, but there is a little bright side for which I am grateful.