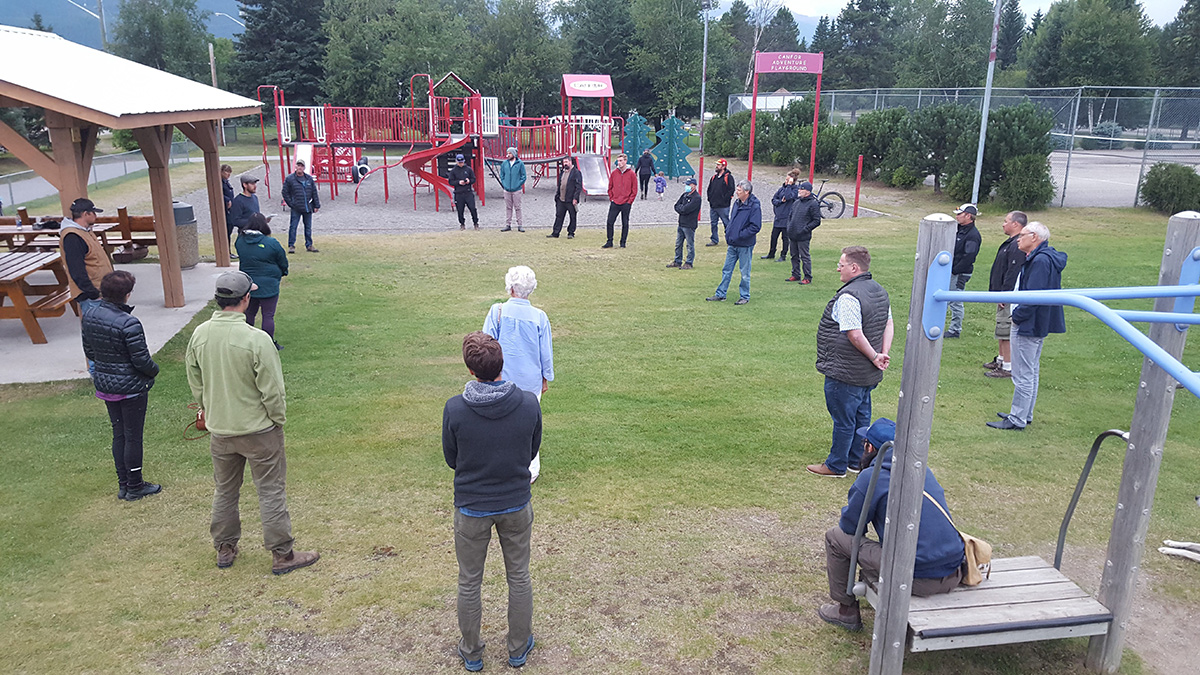 Revived Valemount Ski Society holds AGM
By Laura Kiel
---
The Valemount Ski Society held its first public AGM since its revival this spring and seven enthusiastic members volunteered for its board.
The AGM was held Aug. 12th in Centennial Park to facilitate social distancing.
Evelyne Paredes, Debbie Iorns, Ernie Romanow, Joseph Nusse, Sherri Malone, Patricia Thoni and Shawn Fowler were voted in by the voting members present at the meeting.
Interim President Joseph Nusse warned prospective board members that the board would not be a "sleepy board" and the previous interim board had set an ambitious goal to open a community ski hill this winter.
"What we want to do is small, modest things that are as family-friendly and visitor-friendly as possible," said Nusse, adding that there is also potential for backcountry ski touring access above the lift area.
The target site for the community ski hill is within the Valemount Glacier Destinations (VGD) controlled recreation area footprint, behind the Valemount airport. The VGD developers support locals creating a small ski hill on the site while they complete the investment phase of their multi-million dollar project (The cost of Phase 1 is somewhere in the range of $100M). VGD reps Tommaso Oberti and Jill Bodkin travelled to Valemount for the AGM.
Bodkin said the Ski Society has always been a great partner to VGD and that the company is looking forward to helping out with the community project.
"We look forward to working together and bringing in whatever outside resources we can."
She said people in the ski industry have been watching the Valemount ski hill effort and are interested in sharing expertise.
Owen Torgerson, Valemount's mayor, was also present. "We are extremely excited for this potential," he said. "Thank you."
Donations roll in
Nearly $25,000 has already been raised towards the community ski hill and in-kind donations include a generator worth thousands donated by Shawn Fowler and a handle tow ski lift "on loan" from Oberto Oberti of Glacier Resorts Ltd & L.P. the same developer as Valemount Glacier Destinations (VGD).
"That puts us at our target to install the lift and landscape one ski run," said Nusse. "If we can fundraise more we can start talking about building a tube park beside it."
Individual donations of at least $100 will count towards future lift passes when the ski hill gets up and running. If VGD starts before the community ski hill can begin, then the money will be refunded. For more information contact Joe Nusse.
Can it succeed?
With COVID-19 putting a damper on many of the usual team sports, Nusse pointed out that a ski hill could help fill that gap. New board member Debbie Iorns, an elementary school teacher, said she looked forward to taking elementary students to the new hill. Board member Sherri Malone noted that her Ontario hometown had a community ski hill and it really brought the community together.