By Goat Staff
---
In an interview with CBC's Caroline De Ryk Daybreak North, Garry and Mabel Moore gave a detailed account of their escape from a mudslide in the early hours of Saturday, July 4.
"It's just starting to sink in," said Mabel Moore.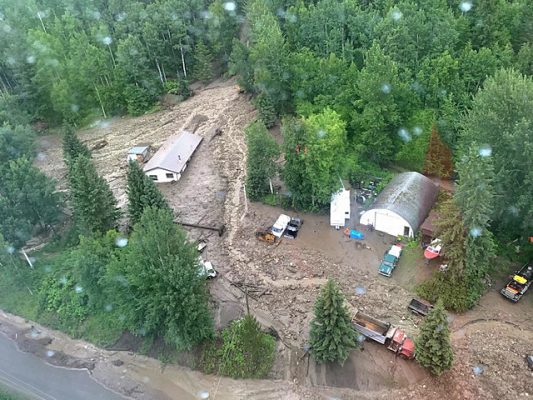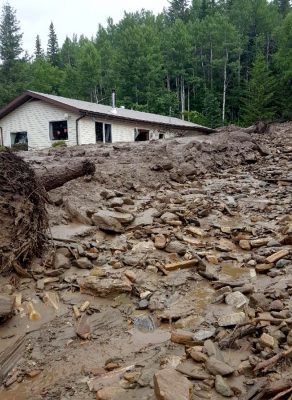 Moore said before the slide Willox Creek was running high and dirty, but in their 37 years, they never had a problem with it.
They woke up when water and rocks hit their house so hard it shook them out of bed.
"We were sleeping and it literally knocked us out of our sleep and we were in two feet of water," said Mabel.
"It was like a freight train going through the middle of your house," said Garry.
"It took literally 35 seconds to get our house full of water mud and rock."
Garry used a log that had come into the house to break the kitchen window open.
"By the time I broke a window out it was up to our knees," he said.
"They're brand new windows and they're really tough."
As they left the house he said their sidewalk had just 8 inches of mud on it.
Mabel said she prayed that another slide wouldn't come down as they cross the yard.
The fought their way down to Mountain View Road which included sliding down a 20 foot embankment.
They ran to their 81-year-old neighbour, Joyce Godfrey, waking her up and using her car to get down the road to their neighbours.
Garry sustained some cuts from going through the window that would later need to be operated on.
Mabel said her feet got the worst of it, but she was mostly bruised.
"I got bruises where I didn't even know I had skin," she said.
"It was pretty horrific, I wouldn't wish that on anyone ever. It was death."
Garry summed up the experience in a word: 'Devastation.'
They haven't been able to visit their home because the evacuation order is still in place.
The Moore's said that the future is uncertain, but they know that the community will help them.
"I know when that day comes we will have a lot of help from our friends," she said.
The Moore's are currently staying with one of their sons.
To view the GoFundMe, please visit: https://ca.gf.me/v/c/q23y/elderly-couple-lose-everything-in-debris-slide