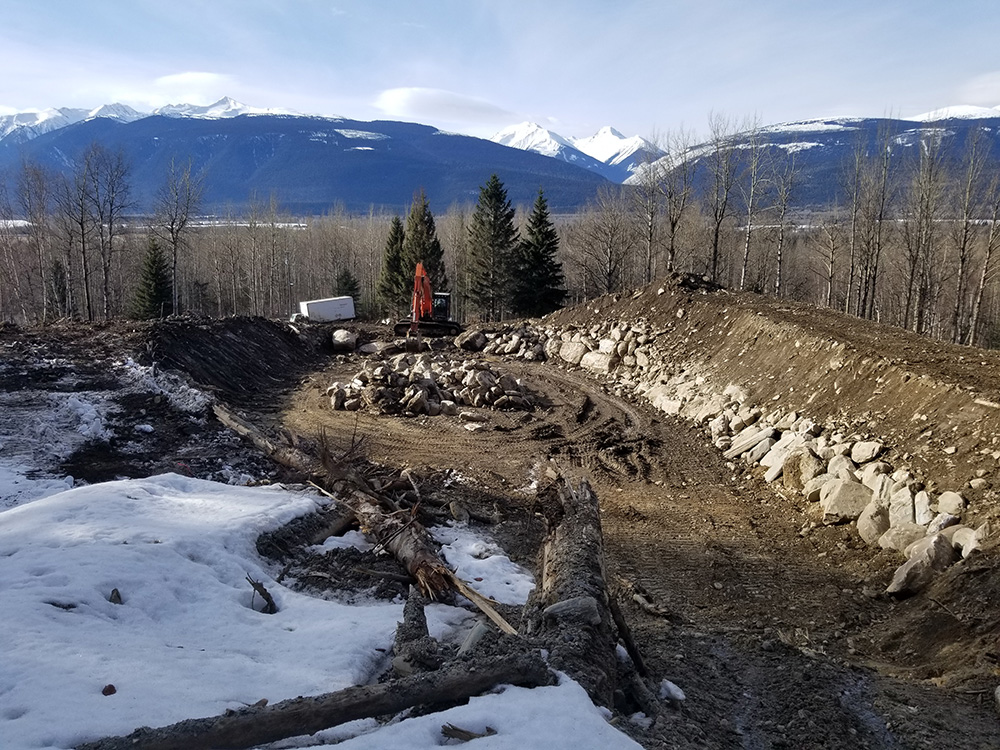 By Andrea Arnold

---
Residents of Mountainview Road in McBride have a new barrier between them and the possibility of more mud and debris flowing down the same destructive path at Willox Creek as it did last summer.

Crews have been working since the beginning of March to create a debris catch basin on the site of the former Moore residence. The home and property were the hardest hit by the slide on July 4, 2020 when approximately 25,000 cubic metres of material were carried over the banks of the creek path, through properties and across Mountainview Road.

A statement from the Ministry of Transportation and Infrastructure states "this important work will improve reliability for residents who use Mountainview Road, as once the basin is installed it will help mitigate damage from seasonal debris by catching materials (such as rocks, mud, and tree roots) before they hit the road."

The catch basin is being constructed using an earth-fill berm to armour the road. A large hole will hold materials that may flow down from Willox Creek, said MOTI. "While the berm and catch basin is designed to protect the road infrastructure from seasonal debris flows, it will offer some protection to downstream properties."

Lakes District Maintenance (LDM), the ministry's maintenance contractor, was given the task of creating the catch basin.

"The berm is a raised barrier constructed using compacted solid, gravels and rock," said Brock Maguire, Quality Assurance and Safety Manager for LDM Robson. "The height of the berm walls are approximately 5 m and the length and width are approximately 75 m and 35 m respectively," he said. He also reported that the construction has been completed, and is ready for use if the need arises.

This and other similar setups around the valley are designed to catch solid material within a debris flow, helping mitigate the amount of damage done to structures below the site. Once any slide danger has passed, heavy equipment can be used to clean out the caught debris, allowing it to continue being effective for future scenarios.

The former owners of the site, Garry and Mabel Moore, are very happy that MOTI bought their property. But they are still struggling with the loss of their long-time home. "It is sad to see the mounds of gravel where we used to live," they said. "Whatever work that's being done there we just hope and pray that if and when another slide comes down that it will protect our friends that still live in that area."