By Andru McCracken
---
When Brian Englehardt's neighbours Garry and Mabel Moore and their friend Joyce Godfrey arrived at his place at 2:30 am in the morning July 4th "they were all bloody and covered in mud from one end to the other with no clothes."
Water, rocks and mud had slammed into the Moore's home on Mountain View Road near McBride and had shook the seniors out of bed. To escape their flooding house they had used a log floating through their home to shatter the kitchen window and climb through. Garry was cut badly while climbing out.
When they arrived at the Englehardt's, Brian stopped the bleeding from Garry's arm while his wife called 911. Getting help took a long time.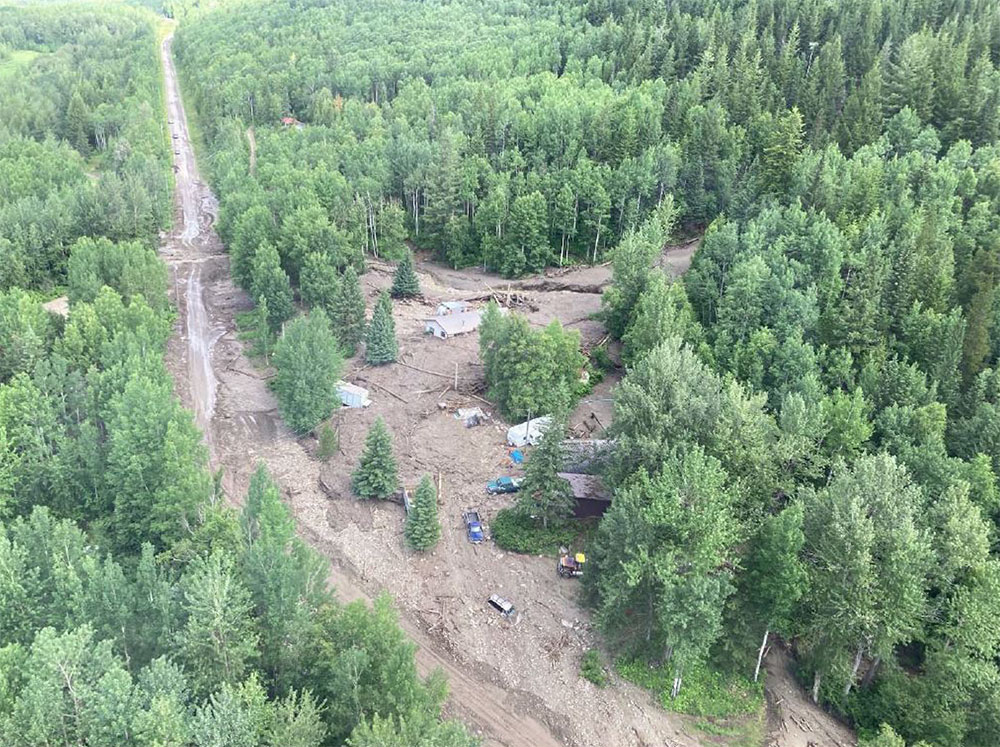 "My wife was on [the phone] for over an hour," said Englehardt. "Everytime a new person came on and she had to explain it over and over again."
Garry had lost a lot of blood.
"The cut was 7 inches long and 2 inches deep," said Garry, "Brian did a very good job of wrapping it up."
Garry estimates that by the time he got to Englehardt's he had lost ¾ of a gallon of blood.
"I went and showered and bled all over the place. I got the mud and grime washed off my body and arms.
My wife and the dog were just as dirty."
He said they left so much mud in the shower, Englehardt would later remove it with a shovel.
Despite their injuries and hypothermic symptoms, they didn't get on a helicopter until 8:30 am. A six hour wait.
When the helicopter did land, Englehardt said authorities told them they'd have 20 seconds to load.
"I took them over in my car, they still had to walk a ways, and their feet were hurt so bad," said Englehardt.
"A lot of mistakes were made in my opinion. 911 was a farce."
The couple is okay, and Garry said no one died, but Garry maintains 911 was a problem.
"We waited and waited. 911 didn't work very good," he said. "I realize nobody flies at night. But it gets daylight at 3:30 to 4 am."
"We went from there to the hospital they had a look and then I got shipped into Prince George for surgery."
He said his wife's toes were 'beat to death almost' and that her legs were bruised from her knees to ankles.
"They were hurt very badly in my opinion," said Englehardt.
Englehardt said that the Regional District's response left much to be desired as well.
"We kept Joyce here for 11 days and couldn't get any answers from anybody," he said. "We know of her but she is virtually a stranger to us."
The Moores are still figuring out what will happen next.
"We're staying with our daughter in law and son where we don't have to listen to that creek," said Garry.
About four days after the incident Garry returned to their property and rescued his gravel truck, water truck and another old pick up truck.
He also had a piece of heavy machinery, a CAT, that he had tugged out of the debris.
"No lives were lost except all the mice we had running around," he said.
Regional District Director Dannielle Alan said that what exactly happened during the 911 call is being investigated.
"We're reviewing the 911 call," said Alan.
She said that the Regional District is filing a Freedom Of Information request to get a transcript and assess what happened.