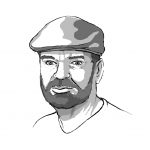 Andru McCracken, EDITOR
---
What you want in a leader really depends on the time. If the course is smooth, the waters well charted, people have the luxury of choosing a known quantity to help maintain the good times. That makes sense when the mill is running and rains come on time, when cheques get cashed and there's plenty of food in the store, people can choose the leader they want and it will likely be a symbol of what they aspire to.
But when the waters get choppy and the map is wrong, when the cheque is late and the shelves are bare, you don't actually choose leaders; they just sort of rise up overnight, like mushrooms. They weren't leaders before and suddenly there they are pushing up out of the chaos of ashes and leaves.
That's what I thought anyway when I saw Blue River resident Lee Onslow's letter to the RCMP re the Tiny House Warriors. Onslow showed leadership.
It's the same energy she has helped channel into the Blue River Community Garden. It's magic. Leading, not commanding; encouraging and inspiring. Cultivating.
Leaders in uncertain times, they're the ones running towards trouble and before you know it, they're standing up making plain what others aren't comfortable saying.
Two years into a battle with the Tiny House Warriors, Blue River has found a candidate for a leader to help it out of this mire. Kudos to Steven Quinn for calling the meeting. It's late, but it is the kind of action the hamlet needs.
If Onslow and her friends undertake the challenge of representing Blue River, I expect change.
When I asked Ken Gillis, chair of the Thompson Nicola Regional District about their inaction on the file a month ago, what I got was a line of bureaucratic balderdash:
There is no authority vested in the TNRD to deal with criminal matters, or even civil trespass, unless the trespass occurs on TNRD property and even then we would be left with essentially only the regular civil law remedies available to any other citizen. This particular situation is an area of almost exclusive Federal jurisdiction, as you must be aware.
It made me think, have times been so good for the TNRD? Gillis is technically right and terribly wrong. He could have said as much, "We have no leaders here."
Despite being the only thing approaching local government in Blue River, the existence of 'local government' has been a confusing red herring for the people of
Blue River. Now that they know no action is forthcoming from the TNRD, they can move on.
While Onslow's treatise could have used a little polish, the interior diamond there: the authority to speak is contained within.
Leadership, I think, isn't about solutions. In this instance it's about knowing who you are.
That's why when Shelly Loring, Chief of the Simpcw First Nation, spoke you could almost hear the chairs squeaking in Victoria. One imagines necks craning over desks peering towards Blue River.
Loring knows who she is. She knows where she comes from. And invited by Steve Quinn, the RDFFG's Area B director, she came and addressed the people of Blue River and offered what must be the only legitimate offer of help the community has seen in two winters.
Loring used strong language to rip apart the Warriors and denounce their actions. She heard first-hand stories from locals about the abuse they have suffered and she was incensed.
Loring, who traces her lineage eight generations, knows who she is. She also knows where she stands. On Simpcw'ulecw. Simpcw land.
It's a good time for us all to get in touch deeply with who we are and where we stand.
The answer to the Tiny House Warriors is at once more abstract and more simple than the province's legal team could ever guess.
To act, we need to first know who we are, where we are. The rest follows.
I am proud of the community of Blue River for its patience, its kindness and calmness; the energy in the community is shifting, I know with this kind of leadership, these three principles will continue to play a role in resolving the situation.