By Andru McCracken
---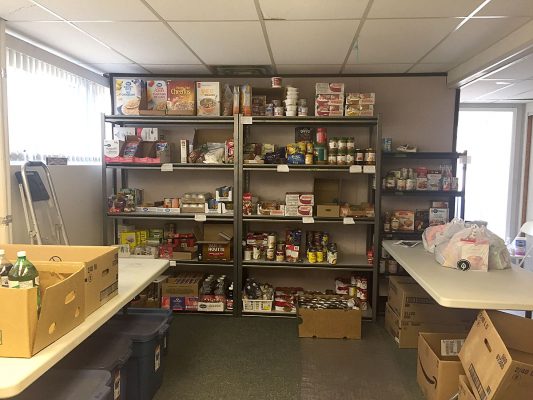 Sherry Tinsley, president of the Valemount Food Bank and Julie Holland, Food Bank Director for McBride's Seventh Day Adventist Church used the same words to describe the donations they have received this month:
"It's been amazing."
Both Food Banks are well-stocked and well-financed thanks to many recent local financial donations, but use of the food banks has not increased, at least not yet. Both are bracing for hard times to come.
"April wasn't busy; people still had their pantry full. We are expecting an influx of people in May and June," said Tinsley.
Holland echoed the sentiment.
"I haven't seen an increase in demand yet. I think the government has been taking care of people," said Holland. She urges people not to hesitate to get in touch.
"I am concerned about those slipping through the cracks that may have never been to a food bank before," she said. "Please don't hesitate to call."
Tinsley said they've made it simpler to access the food bank now, because they anticipate the need will be widespread.
"Our protocol is not as stringent as it was in the past, because these people that are coming here next month or June or July, but they're not going to be here next June or July," said Tinsley.
To access the McBride Foodbank call Julia at 250-569-7436 or Beryl at 250-569-3225. To access the Valemount food bank call 250-566-4807.
Donations
There are multiple ways to donate to the food bank in McBride, there is a drop off at AG Foods (for food purchased in-store only, a restriction due to health concerns), and a drop-off at the McBride Post Office.
Cheques can be made out to the McBride Seventh Day Adventist Church, Box 603, McBride, BC V0J 2E0.
There is also an option for donating to the food bank online through their website: mcbrideadventist.ca.
"I just was speechless at the generosity," said Holland. "We have been flooded with donations. Our shelves are stocked for whatever the next few months brings."
You can drop off nonperishable items at the IGA and IDA as well as the office of the Rocky Mountain Goat Newspaper. You can also send cheques to the Valemount Food Bank, Box 35, Valemount, BC, V0E 2Z0.