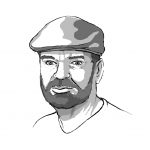 By Andru McCracken
---
A lot of us have either grown up here or been here so long we're enmeshed in the social fabric around us. Our relationships and habits are like water to a fish. We don't much notice them.
There's been a lot of talk about police forces and their role in society, how they need to change since the death of George Floyd on May 25 and more recently Rodney Levi and Chantel Moore in New Brunswick.
If I thought I could add something to the uproar based on my personal experience, I would. But as a comfortably settled resident of 20 years… I'm a fish swimming in this water, I don't have many experiences of police as police, save one.
I was walking past a neighbour's place a while back, he wasn't there and wasn't coming back soon under his own recognizance. I noticed an appliance outside his door covered in cardboard as if it had just been shipped there.
Was it there for a while? I didn't remember seeing it… but I also knew this guy wasn't in town. He had been doing weird things. Did he order it by accident?
Wouldn't that be the worst thing if this new refrigerator was getting wrecked out there in the freeze melt cycles of early fall?
We didn't part on a very good note but I honestly didn't know if anyone else would have moved his refrigerator under cover for him. It would have made me feel better to do something for the guy, so I tried.
I went to see if I could spot a date on a packing slip (if it was already there for months, I'd let it sit).
That's when the police rolled up.
"What are you doing there," barked a man from a police cruiser.
"Um… He's in jail?"
"What are you doing on the property? Do you have permission to be here?"
"Um… no."
"What's your name?" he barked again.
I had been caught on someone else's private property. It was humiliating and at the same time I was taken aback. Like, you think I'm going to steal this refrigerator? In broad daylight? On foot?
Atypically, I didn't give any lip.
The guy didn't see me. He didn't see the local newspaper editor, a guy who had lived here for the last 20 years, he just saw someone somewhere they shouldn't be.
It's funny because I sat a table away from him through many a trivia-night at the Legion delivering what I had imagined was a memorable beating.
I guess not.
I gave him my name and when he was through, left.
This was a strange experience for me.
I'm not criticizing the police officer. If there is a take-away for the community as a whole, this officer was really concerned about a guy who wasn't there to take care of his property because of trouble with the law. That's cool.
This was one of the very few interactions I have had with the police as police in Valemount.
Miniscule. Peaceful. Fine. Forgettable (actually not).
What I am saying is that I'm not the guy people need to poll about whether policing is working or not. A guy who is policed once in 20 years. The people we need to check in with are people who aren't comfortable in the water they are swimming in daily. Also people who don't have power, people who don't have influence.
What the movement Black Lives Matter begs us to do is to peer into the experience of other people.
The accounts we hear of police brutality, for many of us they seem just wrong, because our own experience of police is radically different. But what we know from brutal video evidence, stories from the north, the lives taken in New Brunswick is that the experience of other people is different.