I remember the first time we rode up Munday Grind to the Bacon turnoff as a family.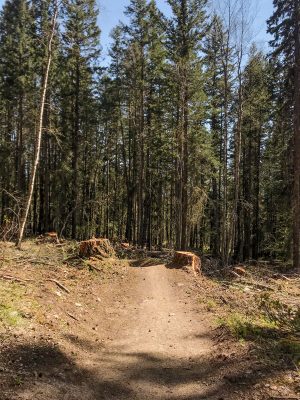 We celebrated with a ceremonial ride down Bacon afterwards.  Each turn seemed smoother than ever as we breezed past the beautiful forest. In the fading hours of daylight the sun peaked through the forest canopy illuminating the trail. The perfect harmony of tranquility and adventure.
I walked up Bacon the other day and had a hard time envisioning those perfect moments I shared with my family. They almost seem like a lifetime ago.
I understand that there are a lot of politics that go into a public bike park. I am ever appreciative of the land-use agreement that we have secured and the hours of fundraising and negotiating that has gone into this.
Our community thrives on entrepreneurial spirit. Take one look around town and you will see so many amazing businesses created out of passion. Being on a busy highway gives us the upper hand when it comes to tourist traffic. Our businesses and associations try their very best to provide excellent service tourists and locals alike. The bike park is one of those fine landmarks that draws visitors from far and wide. I've heard people all over Canada talk about the "Valemount Bike Park" and while it may not be everyone's cup of tea, there is no denying that it is loved and cherished by many.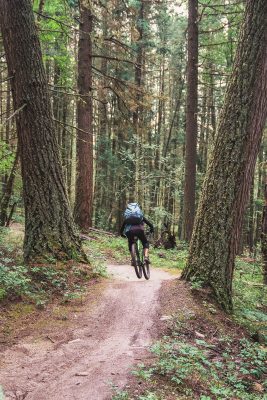 As someone whose logging experience extends to collecting firewood, I recognize that I am speaking outside of my expertise but I have to ask, was the logging done at the bike park absolutely necessary, and furthermore, was there a better way we could have done this? Perhaps a more selective process that was aesthetically pleasing but still achieved the same results?
Following further up the road to the Tinfoil staging area a pool of water collects in the parking area and the fallen trees on the North side line the banks of the beloved run Stinger.
Each of the trails at the bike park offers something unique, not only in style, but in environment. High Roller and Stumptown offer those amazing panoramic mountain views. Bacon was celebrated for its beautiful old forest and lush deciduous trees. Though rated blue, it was the first trail that I felt confident allowing my daughter to ride. Its close proximity to town makes it particularly achievable for families and beginner bikers.
It will always hold a special place in my heart yet every time I pass by the fresh skidder trails and fallen trees I will be reminded of the lack of permanence life offers.
Ruby Hogg
Valemount, BC