By Andrea Arnold
---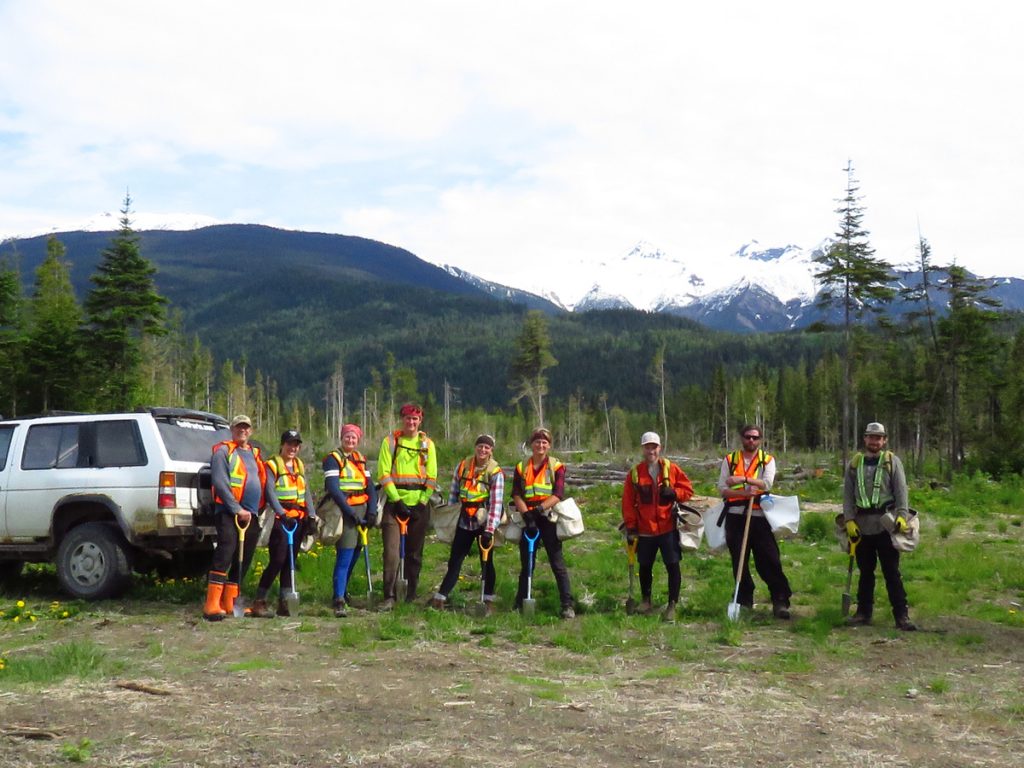 Five local youth began their first tree planting season this past week, under the guidance and watchful eye of veteren planter Rod Reimer.
Recent graduates, Teo and Lilly Esser, Jael Reimer, and Brynne Whelpton as well as almost grad Amber Whelpton all had other plans for the summer. Teo, Lilly, and Brynne all had specific jobs they were headed to, while the other two knew they needed something, but it wasn't clear yet what path they were taking. With the complications and regulations that have come due to the pandemic, all of them found themselves looking for a plan B.
Teo was hoping to take a position as an intern at the Evangelical Free Church in McBride, but it became clear that wasn't a viable option. Lilly intended to work on her parents farm until the work ran out. Brynne was looking forward to another summer working out at the Mount Robson Cafe, after returning from a school based missions trip.
Jael was raised in a family where tree planting was the summer normal, although she never participated. "I haven't tree planted in the past," she said. "And I never really thought I could do it. But the question of what if always sat in the back of my head." Her parents, Rod and Deb Reimer of Rock Reforestation have been active in the tree planting community together since 1986. Rod had 11 years experience before their marriage. So for Jael, the answer for a summer job was under her nose.
Earlier this spring, Lilly and Brynne had talked about the possibility of working a summer sometime, as tree planters. When Jael approached them about a week later, with the opportunity to join a tree planting crew this summer, it was an easy decision. She started talking to her friends and soon, Reimer's crew was set. Five rookie planters, Teo the only one with a little forestry experience, and two experienced planters from out of town.
Before their first official day of the season, all of the local hires agreed that they expected it to be a challenging summer. "The biggest challenge I think will be mentally getting into the routine of the physical labour," said Amber.
"I've never had such a physical job," Brynne said. "So I expect to be tired and sore for the first weeks."
Jael is looking forward to being pushed and changed for the better. "I'm excited for it to toughen me up, and for it to show me things I never knew about myself." The five friends also are apprehensive about working all day with the extra blood sucking, biting or stinging coworkers that come with working outside, and expressed concern about how the call of nature will be answered on site.
The two experienced (and non local) planters on the team, Justin Alexander and Jord Duhaime have over 25 years experience between them. Justin began his career when as a firefighter, he was talked into trying planting, and he continues along that path. He has worked with the Reimer crew for the last six years, and for Jord, this is his first year working in the Robson Valley having been given the recommendation by another planter. Faced with working with a group of first timers, Jord commented that everyone is learning all the time. "Nobody knows everything," he said. "Things are always changing, and we can always get better." Jord says he started tree planting many years ago when his mom made him try it for a summer.
Reimers son, Caleb was on hand for the start of the season. Currently he is home due to COVID shutdown, and hopes to return to his job as an Engineer with Yellowhead Helicopters soon. "I'm helping out while I can," he said.
The five local youth are excited to have the opportunity to grow and learn as a group. They are close friends and siblings, and this experience will create some great memories and stronger bonds. They all enjoy spending time outside, and are enthusiastic about the chance to work in creation.
Jael has an added bonus. "I'm super excited to be working with my dad and seeing first-hand what he does best, and learning from him," she said.
The senior Reimer is looking forward to the challenges that come with training a new team.
"Due to the work being piece work (paid by the tree) and the high quality standards, it is always better to have an experienced crew," he said. "However over the years we have had to train new people and for the most part they have all turned into good and even great planters.
We have tried to hire locally as much as possible with limited success due to lack of
interest. This year we are excited to have our daughter Jael and four of her friends from
McBride to train and turn into tree planters."
He also sees the contract that they have (from the McBride Community Forest Corporation) as a blessing. "We're looking forward to being able to go to work and have a job in the midst of the
COVID-19 pandemic," he said. The regulations that have come from the pandemic created the requirement to hire mostly locals, resulting in job creation for the five friends. They have had to make adjustments, such as transporting the crew in separate vehicles to work sites, sanitizing the vehicles, wearing masks when in close proximity working in separate pods on the block and keeping the non-local crew separate from the local crew even in down time.
The local crew is able to return to their homes each night as the blocks they are working on are all within a reasonable distance from McBride. MCFC hopes to plant 32,400 Fir, 32,400 Pine and 151,200 Spruce in the Belle, Little Falls Pit/Beaver and Crescent Spur. This also means they can relax in their homes every fourth day during their three on one off rotation.
Prior to Saturday's start on the first block, the team had several days of training on how to use equipment and the procedures needed to be successful.They worked on their skills on the Reimer's property in Dunster and were also given the chance for a real scenario with a two day private contract.
At the end of their first day, they agreed that while they were all exhausted and sore, that it was a great start to the season, they had shaken off the first day jitters, and were ready for bed.
"I believe that this job opportunity is a true blessing, and it will really impact myself and my friends in many incredible ways that we aren't even aware of yet," said Jael.