By: Laura Keil
---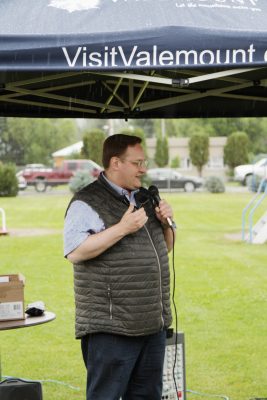 Valemount Glacier Destinations, the company behind the proposed year-round ski & sightseeing resort west of Valemount, gave an update last week, and project planners say it is "alive and kicking" despite delays.
"I'm very disappointed that what we talked about last summer hasn't come to fruition."
He said that over the winter they created a second option that would allow them to start with a more modest investment (he would not give an exact figure, other than to say it was less than $100M).
"This has opened it up to quite a few more groups including groups that are relatively local – Albertan groups."
He said the more modest financing option would still include a gondola up Mt. Trudeau, but the build-out would be more incremental.
"That's not to say that the large $200M investment won't come along, but we're also working against a deadline which is 2022 and we're very cognizant of that."
The 2022 project opening deadline is set out in the Master Development Agreement, which was approved by the Province in 2017.
The existing financing firm, MM Realty International, is based out of Toronto.