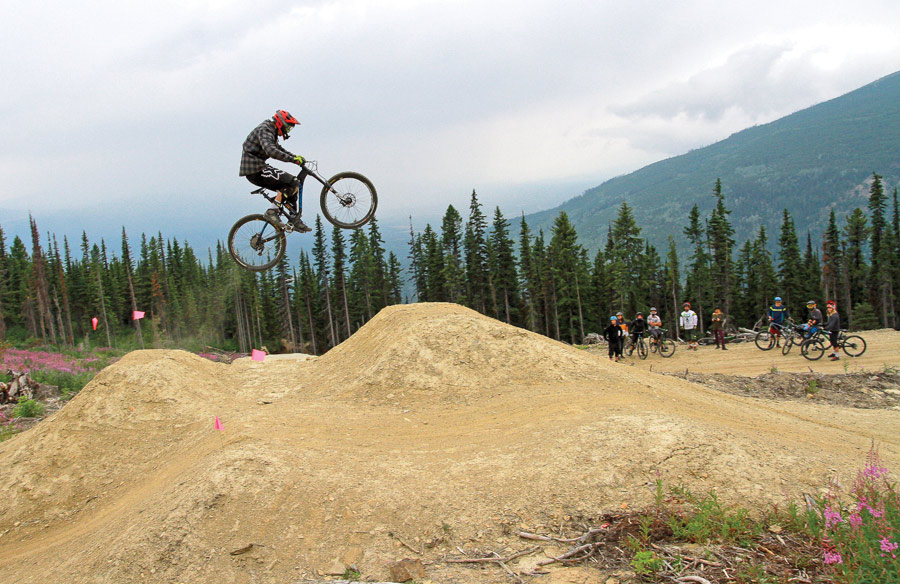 By Andru McCracken
---
Annie Gareau is an emergency room doctor at the Whistler Health Centre, and when people are injured at Whistler Blackcomb Bike Park, they get the chance to meet her.
For reference, Whistler Blackcomb sees an astonishing 2000 riders per day, using a chairlift and gondola for access. At Valemount's annual bikefest, an exceptionally busy day for the park, about 200 riders hit the slopes.
"Whistler is the best in the world and it attracts the best riders in the world," said Gareau. "Shit happens and it's a dangerous sport."
Gareau knows this personally as an avid rider. Her first advice to any rider of any level of expertise is to be completely present on the hill.
"When you ride the park you have to be 110% with it. If I'm starting to think 'Oh, I have to work at three,' I'll stop and clear my mind," she said.
She breaks the riders into two categories, higher risk experts and novices who have no idea of what they are doing.
Jerry's boo boo
Novices typically have less severe injuries sustained at low speed.
For them, she asks that they take an introductory mountain bike course, something offered at the Whistler Bike Park at very low cost.
"A patroller eyeballs everybody that is coming up the chairlift, and if they look like the 'Jerry of the Day' in running shoes, a half helmet, tank top and jeans and we stop them and offer them cheap lessons and protective equipment," she said.
The Jerry of the Day is defined as 'an individual who exhibits a true lack of understanding for their sport, or for life in general.'
Level up
For intermediate and advanced risk takers, Gareau has loads of advice. In fact, during a 30 minute pre-work interview, Gareau talked non-stop about strategies on how to prevent and reduce the severity of injuries.
Protective equipment
Gareau is perplexed at a move away from elbow pads.
"There is a trend not to wear elbow pads," she said. "The cuts and trauma and flesh wounds I have to deal in elbows …half of the skin is left on the hill."
She sees the efficacy of padding everyday as it does much more than protect elbows. She recently had two kids brought to her, a 19 year old and a 13 year old, both of whom had flipped and landed on the rocks. Injuries that could have been life altering were minor. They wore full face helmets, chest armour, long sleeves, knee pads and a neck brace, plus non-slippy hard soled shoes.
"They walked away with bruises and little burns on their shoulders," she said. "Another person took the same jump on the same run and ended up with a broken clavicle, wrist and a kidney contusion."
She says it has to be drilled into people's heads.
"This is not cross-country riding, it is high speed," she said. "Equipment is key."
Starting the day right
Gareau said many of the people she finds in the ER might have done better with a snack.
Many people ride all day without eating lunch.
The gravity of water
Gareau said the majority of riders she sees are not staying hydrated despite the fact that there is a water fountain installed near the lift. When riders come to her, she always takes a sample to ensure there isn't blood in their urine, but she also checks the specific gravity, a measure of how dehydrated people are.
"The specific gravity is 1.030. The scale doesn't go higher than that," she said. "They are super dehydrated."
For Gareau, riding complex terrain dehydrated is not a great idea.
Taking a break
Gareau said riders need to take a rest. She said there will be a few patients rolling in in the morning, but it's at 5 and 6pm when the injuries come pouring in. She asks people how long they've been at the hill.
"Its their 7th lap. Their 10th lap. Their 12th lap. They don't realize they are fatigued," she said. "Downhill riding takes a lot out of you."
Self care the day after
Other riders are making the most of the hill the day after a celebration. She recalls treating a man who was at a bachelor party the night before. With only two runs in he crashed and burned.
"I asked, 'Did you have breakfast?' 'No.' 'Were you drinking last night?' 'Yes.' 'Are you hung over?' 'Yes.' "
Know thy mountain
Knowing the terrain is another important factor. Gareau and her peers at the park ask everyone to pre-ride, and re-ride before they free-ride or descend at speed.
"We get a lot of expert riders from Brazil, Peru, and Europe," she said. "People don't have this kind of hill back home and they know it's the best in the world so it attracts the best riders in the world."
Gareau can tell they didn't take the time to know the mountain when she meets them in the ER.
"When you take the prolines, if you fall you are going to injure yourself seriously," she said.
Headshot
If you fall hard, you can safely assume that you have suffered a concussion.
"Every single body coming to the clinic has a concussion," said Gareau. If you've bailed hard, but walked away without a broken leg, consider taking a break.
It's a feature
Gareau said that the ER has a direct line to patrollers and mountain security. When more than two injured riders are hurt on the same feature it's referred to as a 'producer.'
"Last week there was a producer," she said. Patrollers are dispatched to the site to make repairs to areas where incidents happen.
She said there is a sustained effort to ensure that the trails themselves are not causing accidents.
Trouble on the horizon
"In the last two weeks the severity of injury is off the scale. We had two c-spines, these people were paralyzed. We had two brain bleeds, these injuries are, again, life changing. We had two [broken] femurs and then the broken clavicles and AC joints were nonstop," she said.
Gareau wonders why people aren't choosing to gear up and play it safe..
"This last weekend was like a M.A.S.H. unit in our clinic. The chopper was in and out all day," she said.
Recently, she called the head of security.
"This has to stop. The injuries are off the scale," she said.
What was confounding for both Gareau and the head of security is that the park had been in great shape. She believes riders may be taking bigger and bigger risks.
Despite an incredible amount of attention and care for the safety of riders, accidents continue to happen.
Perhaps the biggest take away for intermediate and advanced riders at the Valemount Bike Park is to gear up, take care, be present.
When riding downhill at speed, riders could stave off life altering injuries by wearing full face helmets, neck braces, shoulder and chest protection, knee and elbow pads and good, grippy, hard soled shoes that won't slip off pedals causing chaos.
Riders should take their day at the park seriously, remember to eat and drink and take breaks. They need to either focus on the task at hand or take the day off.
She believes novice riders should take a class and learn about what they are getting into.
Gareau said that her and her colleagues' work and reporting has helped riders the world over, providing the data that helps equipment manufacturers improve their gear. She hopes you'll take advantage of Whistler's experience and the hard lessons they have learned.