By Andru McCracken
---
The Chief and Council of Simpcw First Nation are speaking out after Interfor announced its intention to acquire $60 million in forestry assets from Canfor.
"It's a non-starter," said Chief Shelly Loring in a press release last week. "Unless and until Simpcw has a meaningful role in management of our forests, this transaction will not go forward."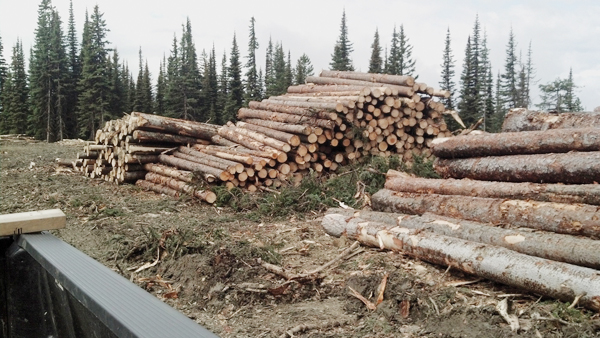 In an interview with The Rocky Mountain Goat last week, Forest Minister Doug Donaldson said Bill 22 requires forest companies to show that the sale of a forest license is "in the public interest" and he's waiting to see a proposal from Interfor and Canfor to show it. The proposal requires consultations with the Simpcw First Nation, the mill workers' union and local communities.
Loring said the loss of 178 jobs in Vavenby and Clearwater is "most definitely not in the public interest."
She said the cutting rights are in the heart of their territory, and they have been clear that they wanted to acquire tenure to grow their forestry operations.
"We have had discussions with Interfor and Canfor – they were both aware of our interests – it's unfortunate that with this knowledge, instead of working with us, they were making a deal in another room."
Simpcw Councillor Tina Donald, who is also Manager of Simpcw Natural Resources department, said the band is at a disadvantage when competing with large private companies for tenure.
"This transaction is a case in point. Our understanding is that the recently enacted Bill 22 is a tool for the Province to combat this inequity. We will now see how serious the Province is," Donald said.
Chief Loring said they were prepared to work collaboratively with the Province on the file if there was an opportunity, but it comes with a caveat:
"We will not hesitate to take appropriate action to ensure that our rights are protected and we are preserving our forests for our future generations."