By Jean Ann Berkenpas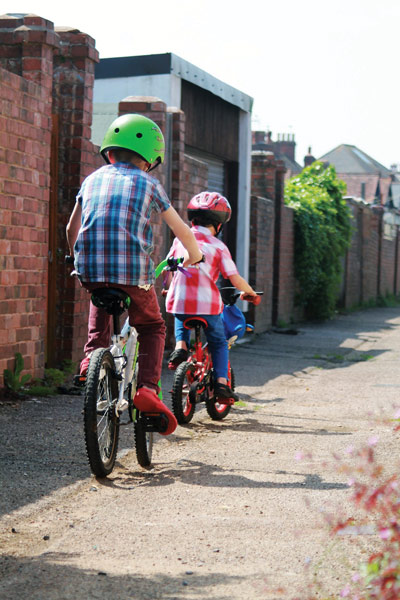 ---
Spring has sprung, the weather has warmed up, and children and adults alike are eager to get out on their bikes. It is easy to forget what condition the bikes were put away in for winter. Some basic maintenance should be done before rolling them out for summer use. My husband Mike and I have worked in both the bike industry and public education and have come across some common issues with kids' bikes. Here is what parents and caregivers can do to keep children's bikes safe for the road and trail.
It is a good idea to do a thorough bike safety check each spring before sending your kids out on their bikes. This involves checking that brake and shifting systems are working, checking cables and cable housing for wear, doing a bolt check and inflating tires. Go over the bike and make sure no sharp cables are exposed, and that there are no loose light reflectors or other sharp edges. It is also a good time to check helmets for any cracks and dents, and adjust for correct fit.
One of the most common and critical issues with kids' bikes are that children cannot reach their brakes. Often the brake lever is too far away from the handlebars for them to reach quickly and easily. Kids should be able to rest two fingers over the brake lever while maintaining a strong grip on the handlebars. If the lever is too far out, check to see if there is an adjustment dial to move the lever in.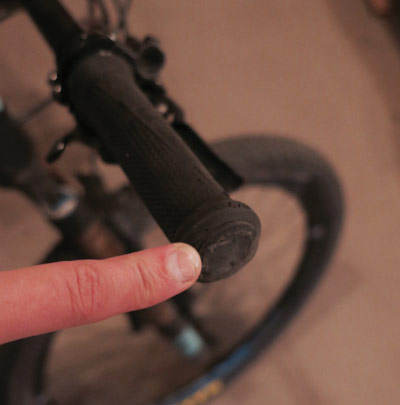 Another problem with braking arises if the brakes are too difficult to pull. Remember that your child's hands are likely not as strong as yours. Get them to do a brake test for you by playing a game of "go-go-stop". Greasing, or replacing the cables and cable housing, can really improve this problem for cable pull brakes. If braking power and stopping time seems to be an issue, check the brake pad wear and pad contact.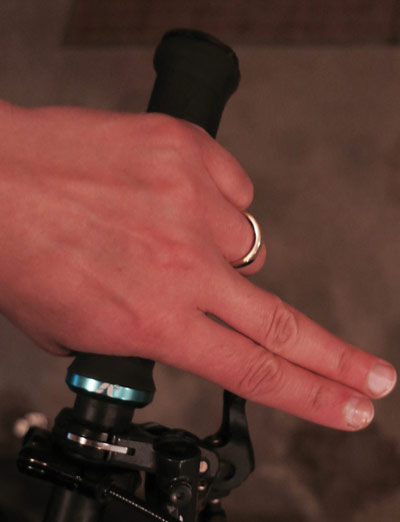 Another often overlooked problem is missing handlebar plugs. The hollow end of each side of the handlebar should be filled with a plastic plug. This is important because often when a fall occurs the handlebar is twisted to the side and the child can fall into it. Having the ends plugged prevents potentially serious puncture wounds. Bar plugs sometimes do fall out, but are cheap to replace and can be found at a bike shop or ordered online.
Ensuring that your child's bike fits properly goes a long way to keep them safe and help them enjoy it. The seat should be adjusted so that their knees are slightly bent or almost straight at the bottom of the pedal stroke for flats or uphill (lower the seat for downhills on trails). They should be able to easily step off their bike and straddle it. For younger children or new riders, make sure that they can touch the ground while seated. The reach to the handlebars should allow a slight bend in the elbow. They should be able to turn sharply to both sides without being pulled off their seat or hitting their knees on the handlebar.
Lastly, make sure they have a helmet that fits properly. It should be snug on their head, and not fall forward, backward or to the side. The straps should be snug under their chin with only space for one or two fingers. The earpieces on the strap should fit just under their ears. Check helmets regularly for dents and cracks and replace if any are found. Helmets protect by absorbing the impact of a crash through compressing or breaking. Once they are damaged, their ability to serve that purpose is diminished, and they should be replaced.
Spring Bike Tune Up Checklist
Bolt check (make sure all bolts are snug and there are no loose parts)
Oil chain
Pump up tires to pressure recommended on sidewall of tire
Brake check (have your kid do this for you!)
Shifting check (also have your kid do this for you)
Check handlebar ends for bar plugs and make sure grips are secure
Spin wheels to make sure they are true and bearings are rolling smoothly
Check bike fit and adjust if they have grown
Check helmet for wear and tear and adjust to fit properly