by Andru McCracken
---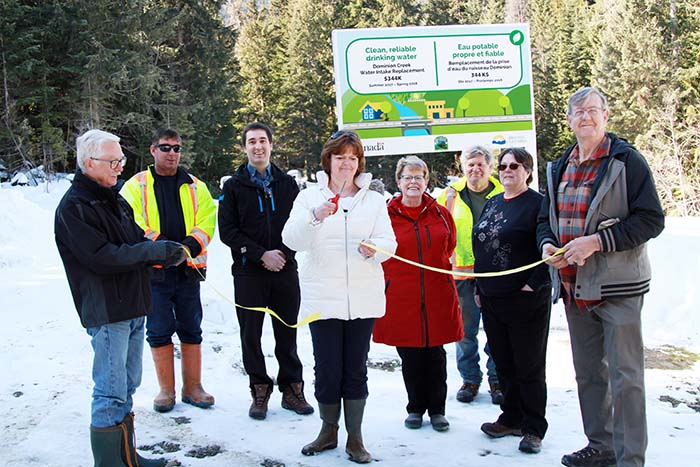 It's probably the single most important piece of infrastructure for the health and well-being of the citizens of McBride and it just got a major upgrade.
Councillor and acting Mayor Rosemary Hruby cut the ribbon on a brand new water intake system that helps keep the water clean and chlorine levels low throughout the year.
"McBride enjoys, arguably, the best water west of the Mississippi and this important infrastructure will maintain that high quality of water,' she said.
Hruby went on to thank the provincial and federal government for sponsoring the work and introduced the engineer who worked on the project.
Assistant Tech Supervisor David Franzmann of R Radloff & Associates Inc said that two new underground tanks replaced an old open concrete structure that was prone to sedimentation. They added a concrete intake structure and two large fibreglass tanks that allow sediment to settle out.
"It increases the quality of the water by reducing the amount of sediment that was getting down to the water treatment plant. It really improves the whole water system and water quality that you will see down in the village," he said.
Public works superintendent Matt Slaney said the intake structure also plays a role as a backup water supply and has some improvements to help with fire suppression.
Tony Rykes was at the celebration. Building the old concrete dam was one of the first jobs he worked on when he moved to town in '83.
"They wanted a concrete dam to replace the old wooden dam," said Rykes.
He recalls working with John Haan at the time.
"That was back when John Haan was a big strapping lad and he was throwing five shovels into the mixer as fast as I was throwing one shovel of cement powder in," said Rykes.
Remarkably, the dam is still in use with some more recent innovations.