by Andru McCracken
---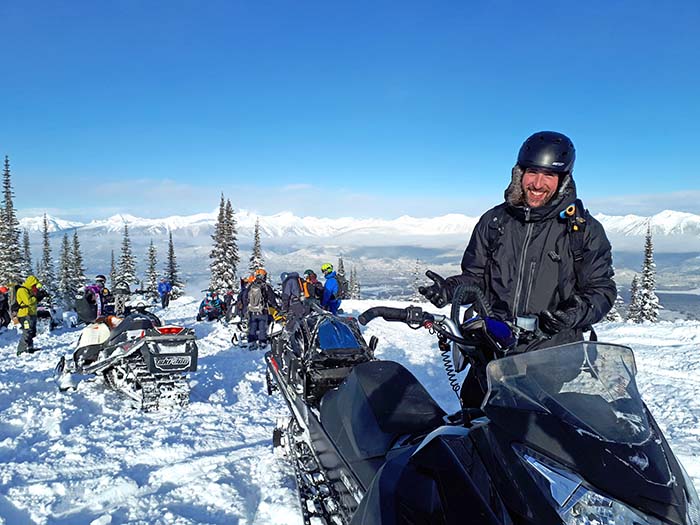 It's the first Saturday after a big snowfall and I'm standing on a mountain ridge 1200 metres above the valley floor with 20 or so very excited skiers and boarders. Although it is 15 degrees below zero and at least one person has the telltale white of frostbite on their cheeks, all the cheeks, pink, red or white sport smiles.
The 50 cm of new snow has turned the snowmobile-assisted ski hill into a dreamland.
'There is almost too much snow,' someone reports, as I arrive at the slope.
It's an odd thing to say, but it turns out to be true, where the terrain levels out to a typical ski run slope, it's hard to move faster than a walk. But steep lines ski like a dream and even going slow in 50 cm of powder is an awesome sensation.
On steep ground turns are silky and smooth. Crystal Ridge is at maximum crystal.
Jessie Fuchs is one of the riders who deeply appreciates the experience.
Fuchs has been riding in the area for the last 10 years, but on the precipice of big life changes, he's decided to spend the whole winter in the place he loves.
"It's my last hurrah, so I moved into town for the winter and I'm riding every day," said Fuchs.
At 32, Fuchs is retiring from the oil industry and going back to school to become a teacher.
He began spending time in the mountains around Valemount when he worked in Jasper as an electrician at Marmot Basin.
For Fuchs, the lure of Valemount is more than just terrain and powder.
"One thing I really love about Valemount is this really supportive young community," he said.
"I think the brew pub is this really cool thing because it seems to be this, like, meeting place," he said. "But it's so weird because everybody just accepts you here as soon as they find out you're new. [It's not like] you're not a friend. You're instantly a friend."
Fuchs you can imagine, gives off a pretty cool vibe too.
I hear him declare the coolness of the day at the muster point at the bottom of the mountain.
"This is the best day. It's like skiing with 20 of your best friends."
Fuchs may be the most effusive, but he does a good job capturing the spirit of the day.
Fuchs' plan is to become a teacher and he understands Blue River is a good place to start. The thought of finding his way back to Valemount is top of mind.
"If I can go to school for four years and become a teacher and then make my way back here that would be the dream," said Fuchs. "It's a hidden gem. I'm pretty excited to be here."