by Andrea Arnold
---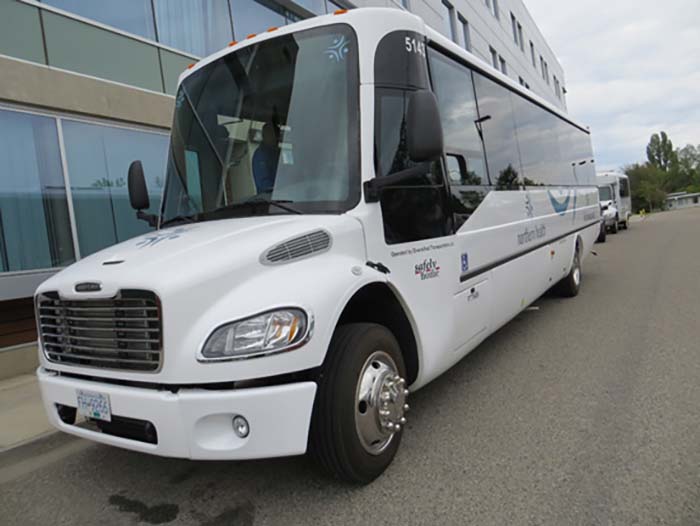 Since Debra Alexander's first day driving the Northern Health Connections Health Bus on August 8, 2006, she has logged 778,095 km transporting people to health appointments in Prince George or Kamloops.
Alexander lived in the Vancouver area prior to moving to McBride. She worked in a bank for 21 years, but switched careers after being shot at during a robbery in 1993. In 1996 Alexander earned her bus licence and got a job with Vancouver city Transit. In 2004, the Alexanders made the decision to move north to McBride. One of Alexander's coworkers in Vancouver had ties to Dome Creek and mentioned to her that there was need for a service that provided transportation for medical appointments in the city. The idea of the Health Bus was already in the works, but not off the ground at that point.
The family settled in the area and Alexander joined the ambulance crew, and drove as a spare bus driver. The log book requirements proved to be a logistical headache, so when Alexander was offered the position of driver for the Health Bus in the spring of 2006, she accepted.
She drove the McBride – Kamloops (820km) and Valemount – Prince George (780 km) routes once a week for just over 12 years. She says that most of the time she enjoyed the driving. There were times however, when things didn't go quite as planned and she "timed out" before getting home to McBride. These occurrences required her to stay overnight somewhere so that she didn't go over her allowed daily driving time.
As Alexander looks forward to retirement, she says she will enjoy having more time to dedicate to her quilting and stained glass creations. Also she is excited to have the freedom to travel more.
"Someone once said to me that when you are retired, you no longer go on holidays, you go on trips," she recalls. Then, laughing adds, "I'll actually drive now."
The Health Bus is continuing its regular services to the valley, so there is a possibility that Alexander will find herself behind the wheel as a spare driver on occasion.
"I am going to miss my passengers," she says. "Safe journeys to all."