By Andru McCracken
---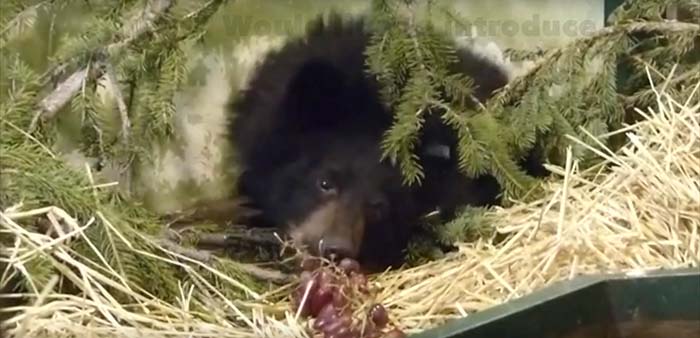 An orphaned cub whose mother and sibling was likely killed by poachers is recovering in Smithers, BC. Bailey. Once thought to be a female cub, Bailey is a male cub that was rescued near Valemount last month.  An online update from Angelika Langen at the Northern Lights Rescue Society said that the cub was finally in stable enough condition to perform a check up and as it turns out, Bailey is a boy.
He's gained weight since being brought to Smithers by the Northern Lights Wildlife Rescue Society on  December 10. She said an old wound on his front leg was not a fracture as originally feared.
Langen remarked online that Bailey is very shy and likes to hide behind branches. In a telephone interview she said that this is a great characteristic.
"That's good, we like them when they are like that. We don't want them friendly," she said
On January 14 Bailey was moved outdoors into an enclosure with another bear to keep him company.
"He's doing perfect. We're happy with the way he's developing and he should be just fine," Langen said.
"With some TLC he will soon be a healthy cub again. He'll come back to you in the summertime."