By Andru McCracken
---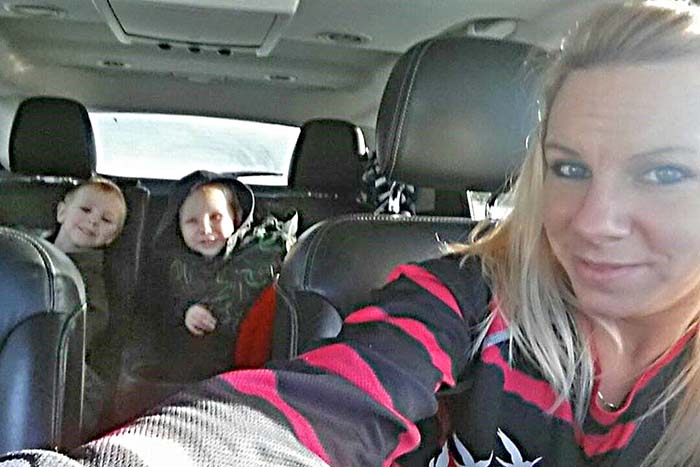 The last time Justine Hart left her Fourth Avenue trailer home she was at her truck when she remembered to go back into the house and turn on the little space heater.
"I used that heater every single day since it cooled off. I put it right in front of the thermostat of my big furnace so it doesn't keep the whole house hot while we're not there,"  said Hart, a single mother of two boys ages 5 and 6.
On Sunday, December 2nd at 6:40 am, neighbours called in a fire. An extension cord used with that little space heater is thought to have been the cause according to Valemount Volunteer Fire Department chief Rick Lalonde.
The kids room was engulfed, but Lalonde said that there was extensive smoke damage throughout the house.
Hart is just glad they weren't home when the fire broke out.
She had just set up a bunk bed and the two boys were sharing a room.
"One would have been really high to the ceiling," she said. "All the kids' stuff was actually burned right up.
Hart said her room is in the opposite end of the house, and if she had been home, she isn't sure if she would have known about the fire soon enough.
They have lost almost everything to the fire.
"Logan put on a shirt that I had washed a couple times and it had burn marks in it," she said. "Lots of people have offered play dates for the boys while I clean up."
Currently Hart is staying with her boyfriend, but she is looking for a permanent home and finding accomodation is tricky at the best of times in Valemount.
"There are zero rentals right now," said Hart.
Hart said she may have a line on a place opening up in the trailer park, but even if it does pan out, it will be hard transition.
Hart said that her landlord has been great to work with throughout her stay there, letting her purchase appliances in lieu of rent.
"She was super amazing in that aspect," she said.
Lalonde said the firefighters were relieved not to find anyone in the home.
"It was such a happy moment to find that those two little boys weren't in their bunk bed," he said.
Lalonde asks residents to ensure they are using space heaters that meet code and that any extension cords used with a heater are at least 12 gauge (and the shorter they are the better).
It wasn't the only problem with the home though. Lalonde said there was also a large wood burning stove and chimney that weren't in compliance.
"The whole thing was destined to be a problem one day," said Lalonde. "The best part of it is nobody died."
Lalonde encouraged renters to be diligent in choosing a place to live and if homeowners or renters have concerns they should consider using the building inspector as a resource.
Hart is grateful for people in the community stepping up to help her, including her employers, Lee-Anne and Mark Anthony as well as Regan Lewis.
"Lots of people are making play dates for the kids while I clean up," she said.
"I am so grateful to my neighbours Susan, Summer and Rob, as well as Denise, Amy, Amber, Kimberly, Shae," said Hart.
She also thanked Sandra Druyff-Olsen who owned the unit and the Valemount Fire Department.
Hart said that even though her closest family is six hours away they have helped enormously.
If you'd like to make a donation to the Hart family you can find a GoFundMe page set up by her aunt here: