by Andru McCracken
---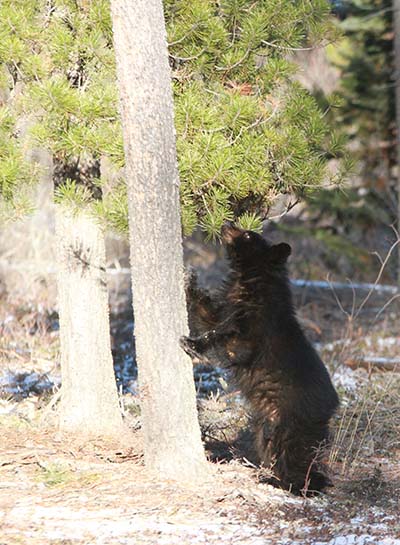 Community members raised a storm of concern for an orphaned bear cub east of Valemount making a flurry of calls to the Conservations RAPP line (Report All Poachers and Polluters). Over the past three weeks, residents near Bailey Road noticed the bear cub on its own. Some residents have been advocating to have the bear brought to a rehabilitation centre in Smithers.
On Tuesday morning, the bear was successfully trapped by Angelika Langen of the Northern Lights Wildlife Rescue Society. Langen had been on the case since Dec. 4th At that time the bear was in plain sight spending his time at the intersection of Bailey Road and the Canoe Forest Service Road, followed by a group of ravens.
Langen received permission from the conservation officer service to retrieve the bear on Friday, but by then the temperature had dropped substantially and the bear cub was out of sight. Langen said that the bear had probably taken refuge somewhere nearby.
Permission from a Conservation Officer Service is critical because in the coming year the bear would be released in a less populated area in the region.
"Bears should always go back to their home region. That way we don't mix genetics and upset the natural balance of numbers in each region," said Langen.
"Some of the cubs literally just give up when they lose their mother. There is a lot of mental healing that needs to happen for them to be functional again and that can take months when we get them into rehab. When they are out there, they just give up," she said.
"It looks like this is one of those cubs. Just like people, they get terribly depressed and they just don't function well unless they get help; that's what we're trying to provide."
Northern Lights Wildlife Rescue started in 1989 and the society is featured on a television show called Wildlife Bear Rescue (the show airs on Animal Planet, the Knowledge Network and the Discovery Channel).
The mother bear and her cub roamed widely east of Valemount throughout the summer, according to Jean Osadchuk of Bailey Ranch. According to her, the bears were good neighbours.
"It was neat to see him and his mother once in a while. They have been around the farm all summer," said Osadchuk. "They cleaned up the Saskatoons and didn't bother anybody."
The mother was reportedly killed this fall. Details of her death are unclear.
Osadchuk said the mother's remains were in the forest not far from where the cub was often seen.
"He's waiting for his mom," said Osadchuk. "It's sad."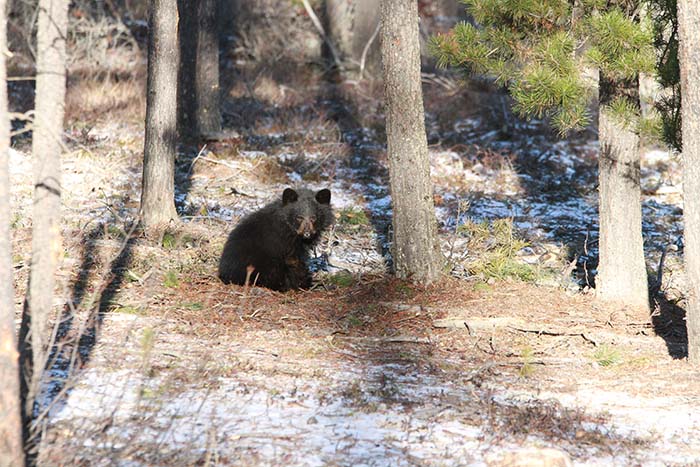 Osadchuk and other neighbours called in about the bear cub to conservation officers, but Conservation didn't immediately decide to intervene.
Betty Gray first noticed the cub was on its own about three weeks ago and that's when she started looking for help.
"I'd like to see them take him to a rehab centre," said Gray. "He's pretty little. He's going to starve if something isn't done. It's going to either starve or be shot."
Gray said the baby bear was well behaved.
"He didn't seem to be aggressive and he didn't bother us," said Gray.
On Monday morning before the bear was trapped, Conservation Officer Warren Shaer was pleased to hear that the bear was out of sight.
"It must have meandered off somewhere," he said, "Which is a good thing."
Shaer said that there is a reasonable likelihood that the cub would survive the winter on his own.
"The only concern I have is it probably didn't go very far to find a den site," said Shaer.
He said that means that if the bear survives the winter, he could start causing some problems in the spring.
Shaer said that the best thing people can do for the bears is to make sure that anything that might attract them is secure. That means garbage, compost, grain, pet food, fruit trees and bird feeders should be safely stored especially in the early spring and late fall. The Conservation Officer Service also asked that residents diligently report any evidence of poaching.